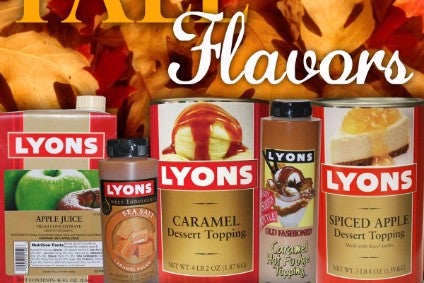 Lyons Magnus has appointed Ed Carolan as chief executive of the US-based maker of dessert sauces and toppings to replace Robert Smittcamp, who will continue to serve as chairman.
Carolan, who was most-recently president of Campbell Soup Co.'s fresh foods division, will assume the role on 15 May, according to a statement from the company, which attracted an undisclosed investment from private-equity firm Paine Schwartz Partners late last year.
Smittcamp has carried the CEO baton at Lyons Magnus for the past 40 years, and said he believes his successor will be able to "capture even greater opportunities in the foodservice sector". His family have owned the business for more than 46 years.
"I am excited about working with them [Lyons Magnus employees] to execute on the company's next phase of growth," said Carolan, who worked at Campbell for 17 years. "Together, we will identify and capture new opportunities at Lyons Magnus and bring customers the high quality and innovative products they have come to expect."
Located in Fresno, California, the company's product portfolio includes dessert sauces, frozen fruit toppings, syrups and juices, while it also supplies fruit and flavouring ingredients to yogurt and ice cream manufacturers.
In November, when Lyons Magnus disclosed the cash injection from Paine Schwartz, Smittcamp said he hoped the investment would take the business to the "next level".
Kevin Schwartz, CEO and a founding partner of the private-equity firm, said of the management change: "Ed's super track record of delivering strong growth, developing industry-leading products and executing value-creating strategic initiatives makes him a terrific addition to the Lyons Magnus team."