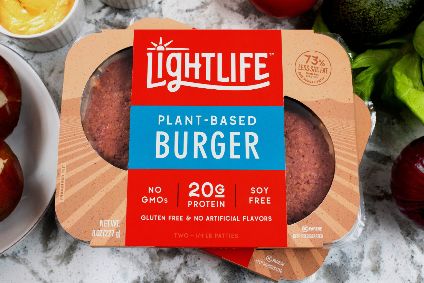 Canada's Maple Leaf Foods has expressed disappointment with the growth in its plant-based protein business, which fell short of target mainly due to supply chain and production challenges.
Maple Leaf, which reported third-quarter and nine-month results yesterday (27 October), said the alternative-protein business was impacted by supply-chain issues related to a "packaging disruption" at its Turners Falls facility, compounded by what CEO Michael McCain described as "the complexity of working in a Covid environment".
"Together, these two factors impaired our ability to meet what was strong consumer demand," Curtis Frank, the group's chief operating officer, told analysts on a call to discuss the results. "Obviously, it's going to take some time…to fill the pipeline heading into the quarter here but, for the most part, we feel that that's resolved."
Toronto-listed Maple Leaf has a division dedicated to plant-based alternatives to meats, Greenleaf Foods, which houses the alternative brands Field Roast Grain Meat Co. and Lightlife. The company has a 30% revenue growth target over the longer term for the division, which, according to CFO Geert Verellen will be "slightly below our strategic 30% target" for this year.
"In our plant-protein business, there's no pulling punches here. We had a very difficult quarter with a performance that is unacceptable," McCain said.
But demand is still there. "The market continues to be in a high-growth phase," he added. "Our brand renovation portfolio of products and our continued investment in brand development makes us extremely well-positioned to remain a strong long-term player in this market."
Sales of plant-based products grew 9.3% in the three months to 30 September to CAD51.4m (US$38.8m), and were up 25% for the year at CAD158.3m.
The meat category expanded 6.4% in the quarter to CAD1.01bn, with nine-month growth of 8.1% taking year-to-date sales to CAD3.03bn.
"We've built a strong foundation for plant protein by investing for growth and investing to win," McCain said. "And, despite these disappointments in our operational performance in the quarter, we are seeing very strong end demand for our products with robust POS growth that is consistent with our long-term sales target."
COO Frank said Maple Leaf had taken "immediate decisive action" to resolve the supply chain issues, and expects to see an improvement in the current fourth quarter which concludes at the end of December.
Despite the production challenges, Maple Leaf said it has sufficient capacity to meet demand in the category and as a result is delaying the construction of a dedicated plant in Shelbyville, in the US state of Indiana.
The company revealed the US$310m investment plan in April last year, with a target to begin construction last spring.
CFO Verellen explained: "We continue to find ways to leverage the capacity of our existing plant protein manufacturing assets, while successfully utilising the footprint in the rest of our network. We now expect these efforts to meet the capacity needs of the business beyond 2022, providing greater flexibility to extend the development horizon of the Shelbyville facility.
"So that's the reason why we do not today want to start forking out a lot of capital and building something that we can deliver in terms of capacity in the rest of our network."
Maple Leaf, one of Canada's largest processors of conventional meat, also provided an update on the status of a new Canadian poultry plant being built in London, Ontario, announced in 2018 at an estimated cost of CAD660m.
Having "completed a full assessment of the impact of Covid-19 and other events have had on the timing and cost of construction", CFO Verellen said the investment is now likely to be closer to CAD720m as "certain material costs have exceeded our initial expectations".
In terms of group results, sales rose 6.2% in the third quarter to CAD1.05bn, and increased 8.5% over the nine months to CAD3.17bn.
Adjusted operating earnings climbed 280% to CAD36.9m in the quarter and 27.1% year-to-date to CAD148.7m.
Net income rose 392% in the three months to CAD66m, and was up 53.8% at CAD87.9m for the year.
Maple Leaf incurred direct costs associated with Covid-19 of CAD19m in the quarter, taking " incremental costs" related to the pandemic to CAD40m so far this year.
Verellen detailed the envisaged Covid-19 associated expenses: "We expect that incremental Covid-related expenses, such as personal protection equipment and increased sanitation, will be approximately CAD15m in the fourth quarter, which will bring the amount to approximately CAD57m for the full year. And just like in the previous quarters, we will continue to look for ways to reduce expenditures in other areas to mitigate some of these incremental expenses."