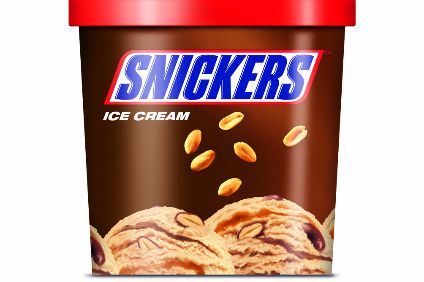 Mars Inc, which markets ice cream in hand-held format in the UK, is launching two lines in tubs.
The US-based group is rolling out ice cream under its namesake and Snickers brands in tubs to "capitalise on the trend for in-home sharing".
Citing MAT data from Nielsen for the week ending 8 October 2016, Mars said tubs account for 43% of ice cream sales in the UK. The new tubs have a recommended retail price of GBP3.00 (US$3.74).
Phil Shaw, general manager for Mars' ice cream business in the UK, added: "It's clear that tubs, and share-at-home products are driving growth within the ice cream category."
Earlier this month, Unilever said it would out a line of Magnum ice cream sold in tubs in the UK, five years after its first attempt at selling the hand-held brand in the format.
The company is selling a range of tubs it said are "more distinctly Magnum" than the ice creams launched in 2012. The former Magnum Luxury ice creams left the market a year later.