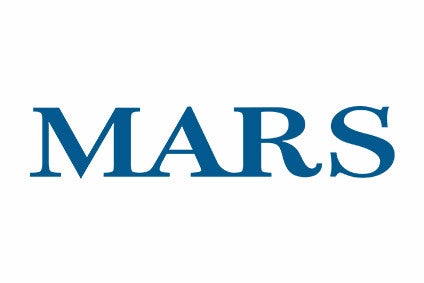 Confectionery giant Mars has ended its involvement in the Evolved Nutrition Labelling (ENL) initiative.
It is now calling for an EU-wide solution to food labelling linked to nutrition and public health.
Mars said in a statement that the ENL system "lacks credibility and consensus", despite it being one of the 'big six' food companies to develop the labelling scheme.
The ENL proposal, unveiled last year, is similar to the 'traffic light' labels used in the UK. It is a colour-coding system based on individual ingredients such as sugar, salt and fat in food and drink items.
The main difference is under the ENL initiative the colours would be allocated for smaller portions (below 60g) on a 'per portion basis' rather than 'per 100g'.
Mars signed up to the scheme alongside Mondelez, Nestle, PepsiCo, Coca-Cola and Unilever. The other five signatories say they remain committed to ENL. But Mars says the scheme lacks widespread support.
"After a year of intense engagement with stakeholders, we have come to the conclusion that whilst there is support for a pan-European approach and to a lesser degree for interpretative nutrition labelling, the 'per portion' solution explored by ENL does not currently enjoy the credibility and required broad level of consensus among stakeholders to make it a viable option at this point," it said. "We have therefore chosen to cease active participation in the Evolved Nutrition Labelling initiative."
Mars said that, based on local consensus in the UK and Ireland, it decided to voluntarily apply colour-coded labelling on a 'per 100g' basis in those countries in 2013.
"Our ambition is to reach a similar consensus on an EU-wide solution and avoid a fragmented approach across member states," it said.
The Mars statement said "we cannot risk inertia" on such schemes and added: "Our strong belief remains that transparent nutrition labelling, supported by a broad consensus among stakeholders, helps consumers to make informed choices for them and their families," it said.
"To this end, we will continue to engage and lead in advocating for an EU-wide, interpretative approach to nutrition labelling. We need a pan-European solution, for all EU consumers to benefit from it and to reduce complexity and cost to businesses."
Mars, which makes M&Ms, Dolmio sauces and Wrigley's chewing gum, is calling for a EU-level process, led by the European Commission, bringing together member states, consumer and public health NGOs, academics and industry to explore which existing scheme or schemes are credible and acceptable to be rolled out across the EU.
"We call on the European Commission to take stock of the situation and, together with EU member states, consider developing an EU regulation to harmonise interpretative labelling," it said.
The introduction of different labelling schemes in different European countries has sparked criticism from parts of the industry.
Pan-European trade body FoodDrinkEurope has called for harmonisation, arguing the introduction of national schemes – France is another of the countries to have launched its own system – undermines the EU single market. FoodDrinkEurope, however, is also opposed to any colour-coding on labels, as used in the schemes in the UK and France – and has been proposed by the ENL group of companies.
In a joint statement the remaining five ENL signatories distanced themselves from Mars' views.
It said: "Mondelez International, Nestle, PepsiCo, The Coca-Cola Company, and Unilever firmly believe that ENL represents an important contribution towards identifying a European solution for nutrition labelling. We are also encouraged by recent constructive feedback from our stakeholder engagement.
"Through ENL, our aim has always been to address the needs of our consumers, who want simple, easy-to-understand and meaningful nutrition labelling including realistic portion size information. For this reason, we continue our EU and national consultations, while we reiterate our call for the European Commission to define standard portion sizes.
"While we recognise there are many different views across Europe on what nutrition labelling should look like, we all share a common goal: to help consumers across Europe make healthier and more informed food and beverage choices.
"We firmly believe in the power of collective action and therefore call for an EU-led process that brings together all relevant stakeholders (the European Commission, member states, consumer groups, NGOs and industry) for constructive engagement towards identifying a solution that will benefit all European consumers.
"We continue to call for an EU-led process to assess all proposed systems and approaches, through which member states can support real life testing of ENL and other schemes."
just-food analysis from April 2017: Why finding harmony on nutritional labelling is no easy task.