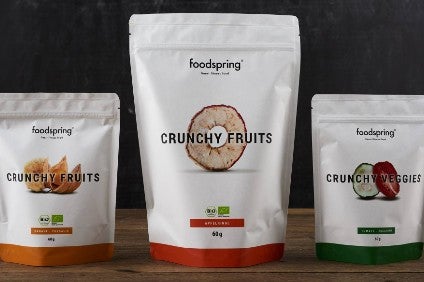 US confectionery heavyweight Mars is acquiring a majority stake in Foodspring, a German direct-to-consumer nutrition business.
Berlin-based Foodspring will remain a stand-alone business within the food giant's Mars Edge division, set up in 2017 and "dedicated to human health and wellness through targeted nutrition".
Financial details have not been disclosed and nor has the percentage stake Mars has acquired.
Foodspring was founded by entrepreneurs Philipp Schrempp and Tobias Schüle with their financial co-founding partner Econa in 2013. According to Mars, it is now one of the largest and fastest growing targeted nutrition businesses in Europe, with currently "six focus countries" and 130 associates.
It offers "on-trend, evidence-based and data-driven products for consumers with needs around sports performance, healthy living and shape".
Foodspring's portfolio includes protein shakes, supplements, snacks and bars, muesli and porridge. It also offers a nutrition and fitness platform to "personalise consumer experiences", offering access to nutritionists through its customer service team.
In March 2018, New Zealand dairy giant Fonterra announced plans to invest in Germany-based sports-nutrition business Goodminton, a holding company that includes local start-up Foodspring. just-food understands Fonterra has exited that investment.
Jean-Christophe Flatin, president of Mars Edge, said: "When we started Mars Edge, we set out to connect the food you want with the nutrition you need. Over the past six years, Foodspring has been at the forefront of doing just that. Its targeted nutrition business has a distinctive position and loyal consumer base in Europe."
Philipp Schrempp, founder and chief executive officer of Foodspring, said: "We are looking forward to accelerating the growth of our business by drawing on Mars' global infrastructure, marketing and science capabilities, as well as its expertise in quality and food safety."
It is expected that the transaction will close in the third quarter 2019.
Investment bank Houlihan Lokey advised Foodspring.
Garyth Stone, who led the advisory team, said: "The sale of Foodspring to Mars is yet another indicator of the large multinational FMCG groups investing in smaller, higher growth health and wellness businesses.
"It demonstrates a recognition that the mega-trends around better-for-you and premiumisation are well understood by these businesses, and that a key element of their strategic path is to buy or invest in companies that have meaningful brand authenticity with a largely millennial audience, and also the legitimacy to extend over multiple geographies and product segments
"Large corporates now understand that they need to get in on the act at an ever earlier stage in a brand's lifecycle, making investments in smaller businesses than would have been considered a number of years ago."