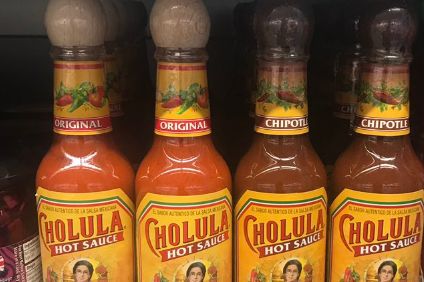 US spice and sauce giant McCormick & Co. is to acquire the hot-sauce company Cholula from local private-equity firm L Catterton for US$800m.
The deal means a swift exit for L Catterton which only acquired Cholula, which produces a Mexican-style hot sauce bottled with a distinctive wooden cap, in April last year for an undisclosed amount. The deal had been announced in late 2018.
The acquisition announced today (24 November) adds to McCormick's hot-sauce portfolio. The company already owns the Frank's RedHot sauce brand, acquired as part of its deal for Reckitt Benckiser's food business in 2017.
McCormick CEO Lawrence Kurzius said: "The acquisition of Cholula accelerates McCormick's growth opportunities within our condiment platform and broadens our portfolio in the hot-sauce category with the addition of the Cholula brand."
Kurzius described hot sauce as "an attractive, high-growth category" and said Cholula "is outpacing category growth". He added: "As McCormick continues to capitalise on the growing consumer interest in healthy and flavourful eating, Cholula, a brand known for authentic bold and spicy Mexican flavours, is a strong complement to our portfolio providing consumers and foodservice operators with an even more diverse product offering that we expect will strengthen our growth opportunities."
Maura Mottolese, who was appointed CEO of Cholula last year after five years as chief executive at US baker Tate's Bake Shop, said: "In the last 19 months, with the support, resources, and operational expertise of the L Catterton team, we established Cholula as a high-performing stand-alone business, vastly improved our commercial execution efforts, and pivoted our foodservice strategy to position Cholula for long-term growth and success.
"With McCormick's extensive experience and unique insight into the hot-sauce category and unmatched global flavour leadership, we look forward to capitalising on new opportunities and reaching even greater heights together."
The sauce after which Cholula is named originated in the Mexican town of Chapala. It was introduced into the US in 1989 and the company is now based in Stamford, Connecticut, although the product is still manufactured in Mexico.
Cholula's annual net sales are approximately $96m. McCormick said Cholula's sales are "expected to grow mid-to-high single digits in a normalized environment beyond the Covid-19 pandemic".
The Lawry's maker said the new asset "has an attractive margin profile". McCormick expects Cholula will be "accretive" to both its consumer-facing and flavour solutions divisions – the latter supplies foodservice and industrial customers – excluding transaction and integration costs. The company noted it expects the deal "to be accretive to adjusted earnings per share in 2021".
McCormick added it plans to improve consumer awareness of the Cholula brand, increase the availability of its products, and "extend the Cholula brand into new formats and eating occasions to drive trial and household penetration".