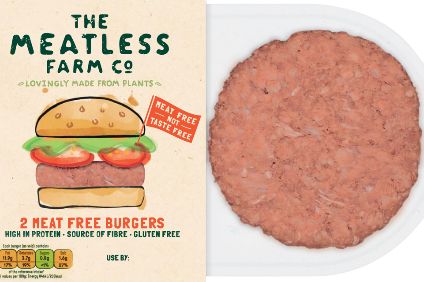 The Meatless Farm Co. has entered new markets in Europe for the UK-based firm's range of alternative burgers and chicken products, and is also seeking additional funds to support its international expansion.
Founded in 2016 by Morten Toft Bech, the company has now launched its products in his home country of Denmark and also the Netherlands, according to its Twitter page.
Meanwhile, the Danish publication Borsen has quoted CEO Toft Bech as saying the company is now after an additional DKK430m (US$70m) in funding, which it plans to raise in the first quarter.
Press officials representing Meatless Farm in North America made reference to the planned capital raising plan and the amount in a statement advising new customer accounts in the US, but provided no other details, which just-food is in the process of confirming with the management team in Europe.
"The interest is great, both from private and institutional investors," Toft Bech told Borsen.
Meatless Farm raised $31m in September to add to a previous $17m round. While the company declined to disclose the investors in September, private-equity fund Stray Dog Capital and Swiss investment firm Beyond Impact have channelled funds into the business.
On the company's Twitter feed, Meatless Farm said a range of its products are available in Denmark at online retailer Nemlig, and in the Netherlands on the supermarket app Crisp. It also noted a listing in Germany with digital platform MyEnso.
Featured across those customers are its frozen mince, burgers, Mediterranean sausage, meatballs, and chicken-free nuggets and schnitzel.
Headquartered in the northern English city of Leeds, the company also has offices in Amsterdam, New York and Singapore. As of a few months ago, the European markets in which it was present included the UK and Ireland, Germany, the Benelux countries, Sweden, the Baltic states, Spain, Switzerland and Malta.
Outside of Europe, Meatless Farm is present in the US, Canada, the UAE, Singapore, Hong Kong, New Zealand and Australia.
In the US, new customer accounts have been added to the existing stockists Whole Foods Market, Fresh Thyme, DashMart and Fresh Direct. Retailers Central Market, Earth Fare, Lowe's Market and Lidl now join the line-up.
Kasper Vesth, the general manager of Meatless Farm in North America, said in a statement: "With appetites for plant-based foods only growing, we are happy to be expanding our footprint across the board and bring more Meatless Farm products to more people. As a plant-based food company that is growing exponentially across the globe, we know what an influential market the US is, and we look forward to making even more announcements about distribution and retailer partnerships in the near future."