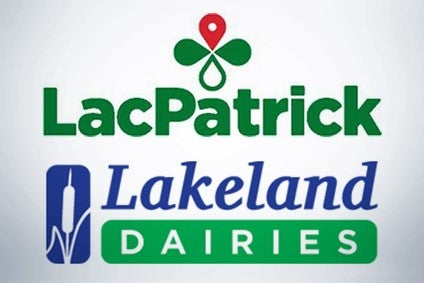 The boards of directors of Ireland-based dairy cooperatives LacPatrick Dairies and Lakeland Dairies have agreed to merge, with a shareholder vote on the deal slated for 23 October.
Initial merger talks were launched back in June and should shareholders approve the deal this month it will then need signing off by the relevant authorities.
Once completed, the combined co-ops will create the second-largest dairy processor in Ireland with an annual turnover of more than EUR1bn (US$1.14bn), according to a joint statement issued yesterday (3 October). The farmer-owned societies will have 3,200 milk suppliers adding up to 1.8bn litres.
Michael Hanley, who is chief executive of County Cavan-based Lakeland Dairies, will be appointed group CEO of the new entity, which will adopt the name of Lakeland Dairies.
Hanley said: "I am confident that the best interests of the shareholders and milk producers of both societies will be best served through this merger. The economies of scale achievable by combining both societies will create a larger, more efficient, diversified, farmer-controlled, global dairy food group with a broad portfolio of value-added products and brands."
He added that the merger will enable the new group to expand its product offerings in food ingredients, foodservice and consumer foods, and will "continue to ensure market access to the UK, Europe" and the rest of the world.
LacPatrick, which is based in County Monaghan, was formed in 2015 through another merger – that of Ballyrashane and Town of Monaghan Co-ops.
Meanwhile, Andrew McConkey, chairman of LacPatrick, said: "With an enlarged milk pool and well invested dairy processing sites on both sides of the border, the new co-operative will be a co-op of scale working in the long-term best interests of dairy farmers, ensuring global market access and serving our valued customers with an even greater capability and an expanded range of high-quality, value-added dairy products."