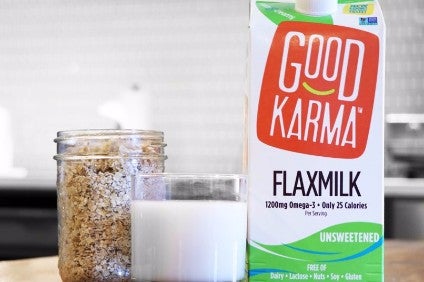 Dean Foods, the largest milk supplier in the US, has acquired a minority stake in dairy-free upstart Good Karma Foods.
The deal, announced today (5 May) and struck for an undisclosed sum, will see Dean Foods use its sales network to try to help Good Karma build its business in the "conventional" retail channel, the dairy giant said.
"We love Good Karma as a fit for Dean Foods as we focus on diversification both within and beyond dairy," Dean Foods CEO Ralph Scozzafava said. "This opportunity with Good Karma is a way for us to build a platform for a larger plant-based portfolio. The management team has deep category expertise, the brand is a disruptor in the plant-based, non-dairy space, and we believe we can support its growth."
Good Karma, based in Boulder in Colorado, makes alternatives to dairy products using flax seed. The company was set up in 1996 by Loren Wallis. In 2014, Good Karma secured financial backing from private-equity firm 2x Consumer Products Growth Partners, which at the time described its move as a "substantial minority investment" in the business. 2x Partners remains "lead investor", Dean Foods said today.
Doug Radi, who became Good Karma's CEO in 2014, said Dean Foods' investment "validates that Good Karma has become one of the leading and fastest-growing brands to watch in the plant-based category".
Radi, who worked for WhiteWave Foods between 2003 and 2007, a business then a division of Dean Foods, added: "We are excited about how this partnership will give us the opportunity to advance our mission of inspiring goodness by making our flax-based non-dairy beverages and yogurts more accessible across the US.
Dean Foods' investment in a business supplying alternatives to dairy products echoes a move last year by US meat giant Tyson Foods to buy a minority stake in meat-free business Beyond Meat, as well as Maple Leaf Foods' acquisition earlier this year of US meat-alternatives supplier Lightlife Foods.
Dean Foods is set to announce its first-quarter financial results on Tuesday.