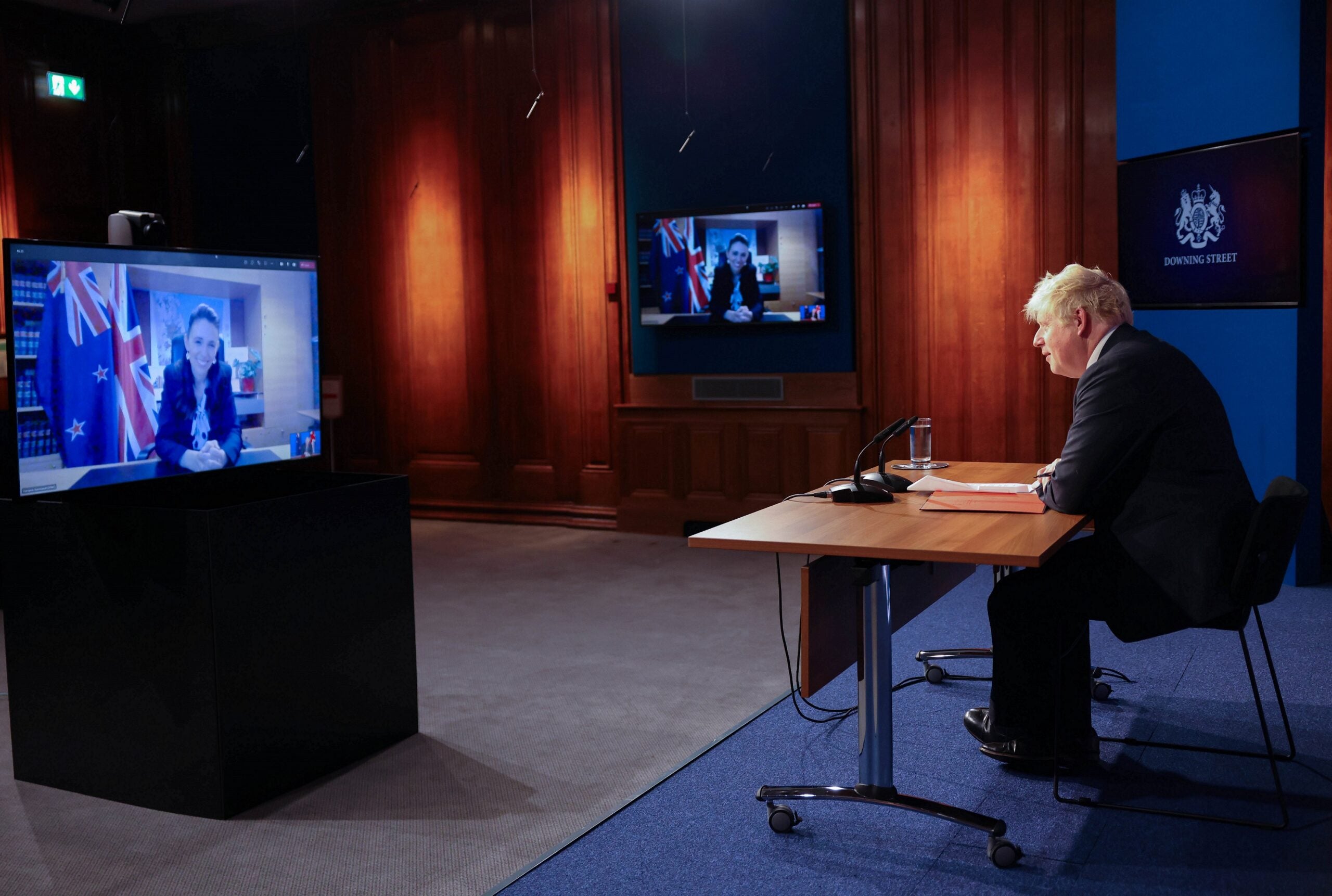 The UK and New Zealand have struck a free trade deal which will end or reduce tariffs on exports between the two countries.
The deal is the latest to be signed by the UK since it left the European Union at the start of this year, including an in-principle agreement with Australia. The latest trade pact was inked by UK Prime Minister Boris Johnson and New Zealand Prime Minister Jacinda Ardern in a video call after 16 months of talks between the Department for International Trade negotiators and their Kiwi counterparts.
UK-New Zealand trade was worth GBP2.3bn (US$3.2bn) last year and the UK government suggests that will grow by around 30% by 2030, including products such as Manuka honey and kiwi fruit.
But there has been a mixed reaction to the news, with a prominent UK farming group concerned about cheap meat imports coming into the market, particularly lamb, as well as dairy.
Under the in-principle agreement with New Zealand, the UK has committed to the removal of tariffs on all dairy products over five years or less, with transitional quotas for butter and cheese.
Minette Batters, president of the National Farmers Union, said: "The announcement of this trade deal with New Zealand, coupled with the Australia deal signed earlier this year, means we will be opening our doors to significant extra volumes of imported food – whether or not produced to our own high standards – while securing almost nothing in return for UK farmers.
"We should all be worried that there could be a huge downside to these deals, especially for sectors such as dairy, red meat and horticulture.
"The fact is that UK farm businesses face significantly higher costs of production than farmers in New Zealand and Australia, and it's worth remembering that margins are already tight here due to on-going labour shortages and rising costs on farm. The Government is now asking British farmers to go toe-to-toe with some of the most export-orientated farmers in the world, without the serious, long-term and properly funded investment in UK agriculture that can enable us to do so.
"It's incredibly worrying that we've heard next to nothing from Government about how it will work with farming to achieve this. This is why it is very, very difficult for the NFU to show any support for these deals. They involve significant upsides for farmers on the other side of the world who can now access our hugely valuable market but contain little discernible benefit for UK producers, either at home or overseas."
The deal received a warmer welcome from UK food industry body the Food and Drink Federation.
Dominic Goudie, its head of international trade, said: "Food and drink manufacturers welcome the news that the UK has agreed in principle a trade deal with New Zealand – an important partner for UK food and drink, with trade in our sector's products worth more than GBP661m in 2020.
"Our manufacturers will benefit from an ambitious trade deal with New Zealand that removes a range of tariffs that currently constrain exports. Significant growth opportunities exist as UK production becomes more competitive in the New Zealand market."
New Zealand dairy giant Fonterra – reputed to be the world's largest dairy exporter – also welcomed the deal. CEO Miles Hurrell said the announcement is a "fantastic result".
"This is a historic outcome for New Zealand. The UK is the second-largest importer of dairy by value, with customers and consumers in high-value market segments who are willing to pay for New Zealand provenance, our sustainability credentials and our innovation," he said.
"A high-quality comprehensive agreement which removes all tariffs creates new opportunities for exporters, helps deliver value back to our shareholders and communities, and ultimately benefits broader New Zealand."
The New Zealand trade deal follows  another struck by the UK with Japan, agreements the Government suggests will pave the way for the UK to join the Trans-Pacific Partnership (CPTPP), a free trade area of 11 Pacific nations with a GDP of GBP8.4trn.
Prime Minister Johnson said: "This is a great trade deal for the United Kingdom, cementing our long friendship with New Zealand and furthering our ties with the Indo-Pacific.
"It will benefit businesses and consumers across the country, cutting costs for exporters and opening up access for our workers."
New Zealand Prime Minister Ardern said: "This world-leading free trade agreement lays the foundations for even stronger connections as both countries embark on a new phase in our relationship. It is good for our economies, our businesses and our people."
UK broadcaster the BBC suggested the New Zealand deal itself is unlikely to boost UK growth, citing the Government's own estimates.
Overall, only a tiny proportion of UK trade – less than 0.2% – is done with New Zealand, it said.
UK newspaper The Guardian suggested the focus on the region is part of Boris Johnson's ten-year plan to "tilt the UK's foreign policy focus towards the Indo-Pacific, strengthening the alliance and position of democratic countries in the region to make them more competitive against China".
More than 30% of New Zealand exports go to China, its largest trading partner.
Following agreement in principle (AIP), several steps need to be completed before the free trade agreement  can enter into force, the UK government said.
At the UK end, this includes a Parliamentary scrutiny process and the deal may also require implementation legislation.