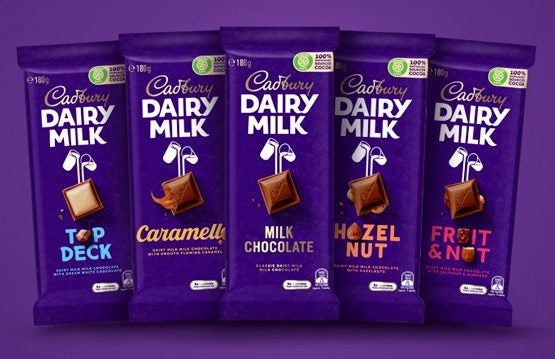 Workers at a Mondelez International chocolate factory in Australia have gone on strike again over permanent staff contracts.
Almost 300 employees at the Ringwood plant in Melbourne went on a 24-hour strike today (8 October) calling for better pay, working conditions and secure jobs for casual staff, according to the workers' union.
The protests follow a walkout at the Ringwood factory in September and also at another Cadbury plant in Scoresby, Victoria, over the right to convert from casual to permanent roles after six months service. Some of the workers had been in casual roles for ten years, the Australian Manufacturing Workers Union (AMWU) said at the time.
Mondelez "continues to refuse to convert workers to permanent roles", the AMWU said in an update. The union added Cadbury has brought in temporary staff to cover the strike action, a move the union described as "hostile" given employee loyalty during the Covid-19 pandemic.
A so-called enterprise bargain agreement offered by Mondelez was rejected by more than 81% of the workers, the union said.
Tony Mavromatis , the AMWU's state secretary for Victoria, said: "Cadbury workers shouldn't be forced to take more strike action, without pay over their legitimate call for secure jobs. These workers helped Cadbury secure record sales during a pandemic and now, when it's their turn for ask for secure jobs, they're being ignored."
A spokesperson for Mondelez in Australia confirmed workers at the Scoresby plant had not resorted to strike action and the company continues to talk with the union to settle the dispute at Ringwood.
More than 40 staff at the Ringwood site have been switched from a fixed-term arrangement to flexible, permanent roles this year or from flexible-permanent positions to full-time employment, the spokesperson said, adding that Mondelez has offered pay increases ranging from 2-3%.
Explaining the employment set-up, the spokesperson said: "Thirty percent of our production volume at Ringwood is seasonal, including Easter egg making. Because of this, we need some element of our workforce to be flexible. Eighteen percent of our workforce is employed on a fixed-term basis to support this.
"We also have a group of employees who work as flexible permanent employees. These employees are guaranteed ten months of full-time work/hours a year (often more work if our volume requires it), with four weeks of annual leave on top, and they receive the same generous entitlements and rates of pay as our full-time permanent team members.  These are not casual employees with insecure work."
Mondelez factories in the US were hit by industrial action during August and September. A deal announced on 18 September brought an end to strikes that affected seven plants in the country.