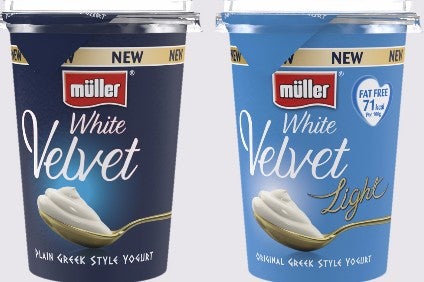 German dairy giant Müller is to invest GBP100m (US$135.4m) in its UK yogurts and desserts business, saying it has identified a potential GBP233m of category growth.
As a launch pad for its investment in the sector, it claims it has identified a "taste barrier" in the UK plain yogurt market, which the company says it will "solve" with new product Müller White Velvet.
The company said the new plain Greek style yogurt has been designed to "disrupt" the plain yogurt sector after its market research found the biggest barrier to purchasing plain yogurt in the UK is taste.
It said Müller White Velvet performed strongly in market research, with consumers "loving the taste, thickness and creaminess".
Its research showed that, on average, consumption of plain yogurt per annum is much higher in Europe than the UK, with 32.6kg consumed per person in Sweden and 26.2kg in Netherlands. In the UK, only 10.5kg of plain yogurt is consumed per person and Müller sees this as a "significant opportunity" to grow plain yogurt consumption in the UK.
Müller claimed to have identified a potential GBP233m of growth in the UK yogurt and desserts category by 2020, to be delivered by "bringing excitement, innovation and game-changing new products to the market".
Michael Inpong, chief marketing officer at Müller, said "By taking plain yogurt, making it deliciously smooth, thick and creamy, we're revolutionising the sector Müller-style. We're going to keep innovating and leveraging the Müller brand in areas where the business doesn't have a presence.
Müller White Velvet will be available in 450g big pot format, with an RRP of GBP1.60, from 25 September. Müller White Velvet Light (fat free) will also be available.
Müller is continuing to target the big pot market, having launched Müllerlight Greek Style big pot, with 0% added sugar in January.
To support the launch, Müller is investing in a major multimedia campaign, which includes a new TV advert starring celebrity Nicole Scherzinger, that will go live in November.
In July, Muller applied for planning permission to expand its facilty in Telford – in the UK county of Shropshire – to facilitate it doubling its yogurt production capacity.
Its newly-announced GBP100m investment in its yogurts and desserts business will take place over the next three years to "develop, manufacture and market a new generation of branded and private label yogurt and dessert products".
The company said it will grow and innovate its brands and also build on its licensing agreement with Mondelez to develop its range of Cadbury products.
It also plans to upgrade the capacity and capabilities of its three Shropshire sites and to increase its marketing spend by 25% over the next three years.