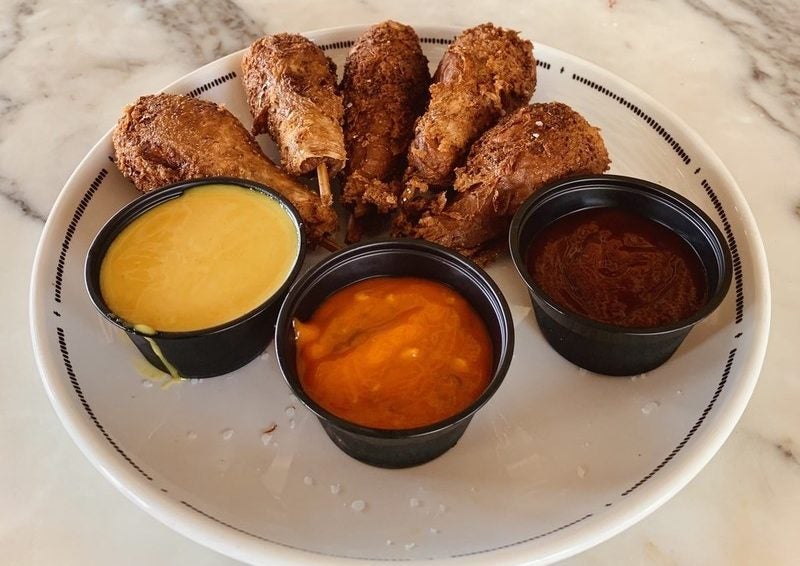 Sundial Foods, a US start-up offering a vegan option for consumers who love chicken wings, has attracted investment from Nestlé.
The California-based business said today (19 November) it had raised US$4m in seed funding from investors including the world's largest food maker. It takes the funding the firm has raised so far to just short of $4.3m.
Set up in 2019, Sundial Foods has made vegan wings it says "go beyond the meat alone" and take in the skin, muscle and bone of the product.
The company states the wings are made from "eight easy-to-recognise ingredients" including water, chickpeas, and sunflower oil. Just Food has asked for more details on the recipe, including how the skin, muscle and bone parts are made.
The wings "contain more fibre and less saturated fat than chicken but approximately the same amount of protein", Sundial Foods says. It expects to launch the product at US restaurants next spring.
Last year, Nestlé and Sundial Foods test-launched a co-branded product in more than 40 retail outlets in Switzerland.
Alongside the Swiss food giant, the firm has secured financial backing from three funds that invest in early-stage businesses in areas such as plant-based food. Two are from the US – Clear Current Capital and SOSV – and the other is Berlin-based FoodLabs.
In a statement, Sundial Foods co-founder Jessica Schwabach said: "Our goal is to make meats that replace the butcher, so our product can be enjoyed as a centre-of-plate experience." Just Food has approached Schwabach for further comment.
Asked to outline the rationale for Nestlé's investment, a spokesperson for the Sweet Earth and Garden Gourmet owner declined to comment.
Nestlé acquired US vegetarian foods business Sweet Earth in 2017. The focus of the company's efforts in alternative proteins has, however, been within. Nestlé has launched – and then relaunched – the Garden Gourmet brand in the UK, as well as in other markets in Europe.
In Australia, the company markets its plant-based meat products under the name Harvest Gourmet, which was launched in that market in 2019. Nestlé launched Harvest Gourmet in China last year.
2020 also saw the company roll out a plant-based alternative to tuna. This autumn, the group expanded its range of plant-based protein products with the test launch of vegan alternatives to egg and shrimp.
In July, meanwhile, Nestlé confirmed it was "evaluating innovative technologies to produce cultured meat or cultured-meat ingredients with several external partners and start-ups".
Nestlé said an example was its work with Israeli cell-based meat start-up Future Meat Technologies. The company said it was partnering with Future Meat Technologies to "explore the potential of cultured-meat components that do not compromise on taste or sustainability".
Just Food rolling guide: Eyeing alternatives – meat companies with stakes in meat-free and cell-based meat