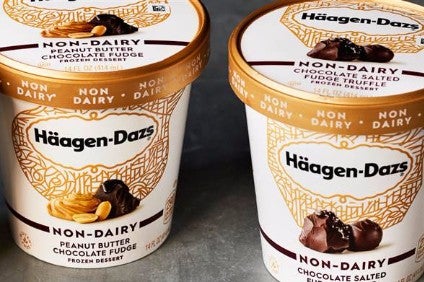 Nestle has launched a non-dairy range of Häagen-Dazs ice cream in the US to try to tap into growing consumer demand for vegan products.
The ice cream, which is described on pack as a "non-dairy frozen dessert", contains ingredients such as Belgian chocolate, peanut butter or coconut cream but no animal products, making it suitable for vegans.
"At Häagen-Dazs, we believe there's no room for compromise," the brand said on its website. "So, while most non-dairy options simply start by substituting soy, almond or cashew milk, every flavour in our new collection begins with a core ingredient, like real pieces of Belgian chocolate, actual peanut butter, or real coconut cream."
The range, which is available in Target stores, includes chocolate salted fudge truffle; peanut butter chocolate fudge and mocha chocolate cookie.
In May, Unilever introduced the first non-dairy option under its Breyers ice cream brand, made with almond milk. Last year, the consumer goods giant launched a dairy-free and certified vegan line of Ben & Jerry's ice cream in the US.
In February, Nestle, which licences the Häagen-Dazs brand for use in the US from General Mills, expanded the range with a line sold under the sub-brand Trio. The product combines two Haagen Dazs flavours, along with a layer of Belgian chocolate, in four flavours.