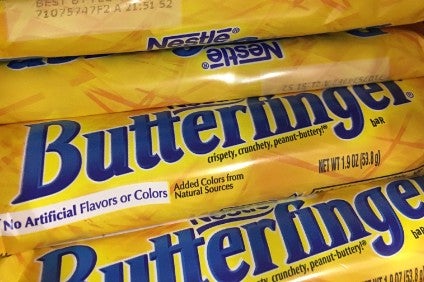 Nestle has told just-food it expects the sale of its US confectionery arm to be agreed in the first three months of next year.
Responding to a just-food email query, a senior corporate spokesperson at Nestle said: "I confirm that our strategic review has led to us deciding to divest the business and a robust sale process is currently underway which we expect to conclude in Q1 2018."
Meanwhile, a report in a US newspaper – unconfirmed by either party – has suggested Italian confectionery giant Ferrero has emerged as the most likely buyer.
Analysts have estimated the unit – which includes brands such as Babyfinger and Baby Ruth – could be sold for between US$1bn and US$3bn.
Nestle announced in June it was considering options for the unit and since then a number of players in the sector – including Ferrero – have been linked with making a bid.
Fellow confectionery giant Hershey has also been linked with making a move on the Nestle assets but its most recent acquisition – that of Amplify Snack Brands for $1.6bn – suggested it is trying to broaden its offering away from confectionery to become "an innovative, snacking powerhouse".
A report in the New York Post newspaper yesterday (21 December) suggested it is Ferrero which is leading the race to buy Nestle's US confectionery arm.
It said Ferrero – which makes Nutella as well as Kinder and Ferrero Rocher chocolates – is poised to shell out as much as $2bn to win the 'auction'.
The article quotes sources who suggest that Ferrero's recent $1.2bn buyout of US candy business Ferrara Candy gives it an American platform to fold the Nestle confectionery business into.