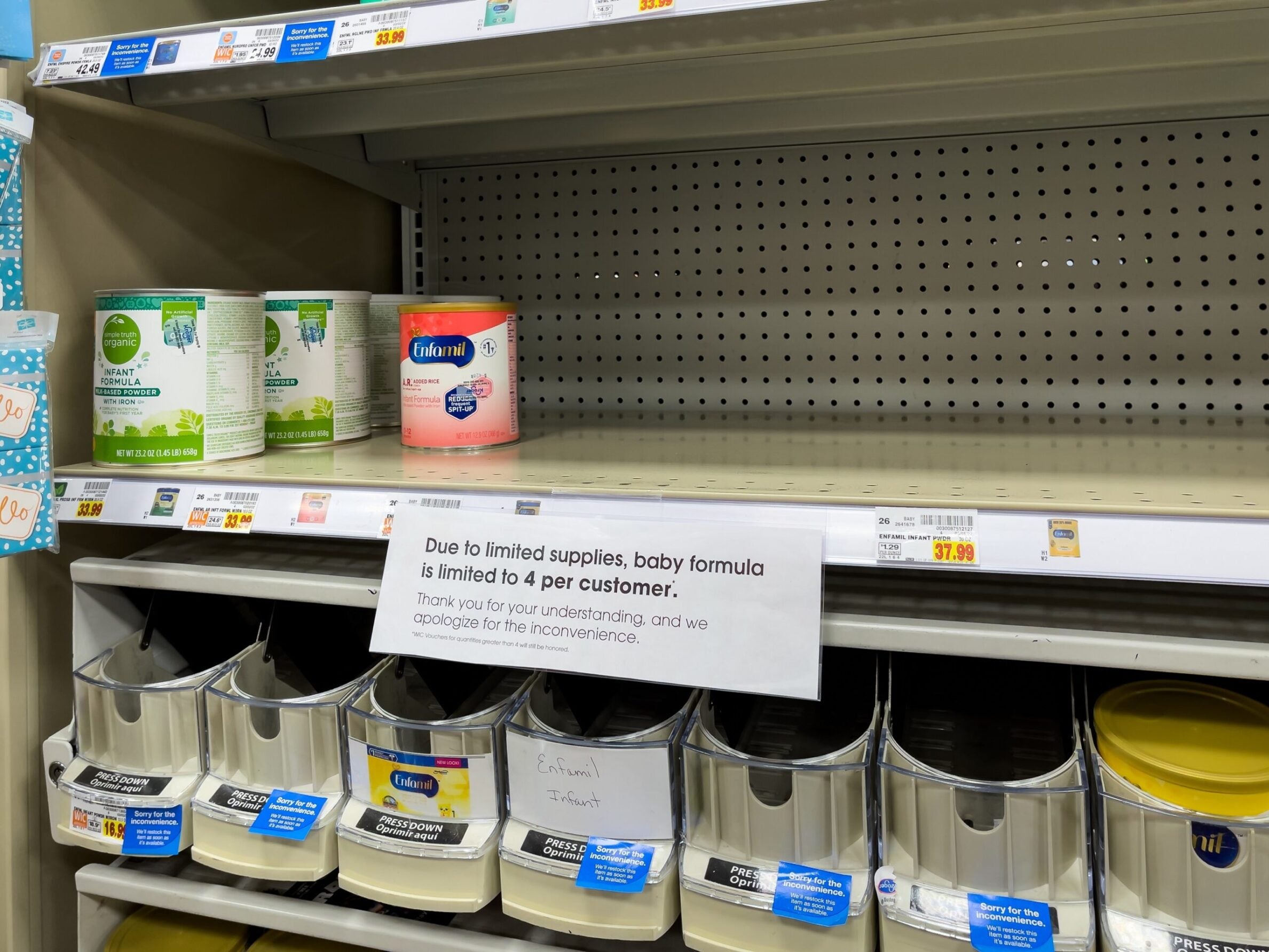 A shortage of infant-formula products on US supermarket shelves has led to the country giving the thumbs-up to imports not usually sold there.
Nestlé has started to ship products to the US from Europe to make up for the shortfall caused by the February recall of infant-formula from one of the nation's main manufacturers, Abbott Laboratories. Abbott saw a facility close amid concern over salmonella and cronobacter sakazakii infections in infants.
The gaps on the shelves have been exacerbated by worried parents stocking up on supplies.
US regulator the Food and Drug Administration (FDA) announced yesterday (16 May), that it had "increased flexibilities regarding importation of certain infant-formula products to further increase the availability of infant-formula across the country while protecting the health of infants".
It added: "The agency is encouraging infant formula manufacturers worldwide to take advantage of these flexibilities."
FDA commissioner Robert Califf said: "The FDA is leaving no stone unturned to further increase the availability of infant formula. We are doing everything in our power as part of the all-of-government efforts to ensure there's adequate product available wherever and whenever parents and caregivers need it.
"Today's action paves the way for companies who don't normally distribute their infant-formula products in the US to do so efficiently and safely."
Switzerland-based Nestlé has been quick to take advantage of the FDA's move. Nestlé already markets Gerber products in the US but it is shipping formula made in the Netherlands to the country. It is also exporting Alfamino formula from Switzerland to the US.
In a statement sent to Just Food, Nestlé said. "While we are a small player in the infant-formula market in the US, we are absolutely committed to doing everything we can to help get parents and caregivers the formula they need so their babies can thrive.
"We have significantly increased the amount of our infant formula available to consumers by ramping up production and accelerating general product availability to retailers and online, as well as in hospitals for those most vulnerable."
Nestle said it is running its formula factories at capacity to help meet demand from the US.
The company said it has prioritised its Gerber Good Start Extensive HA and Alfamino products because they "serve a critical medical purpose as they are for babies with cow's milk protein allergies".
Meanwhile, another infant-formula manufacturer, Reckitt Benckiser, told news agency Reuters it is boosting its US baby-formula production by about 30% and making more frequent deliveries to help to counter the shortage.
The firm, which makes its US formula in three facilities in Michigan, Indiana and Minnesota, said it has granted plants "unlimited overtime" to put in extra shifts.
The US normally produces 98% of the infant formula it consumes, with the primary source of imports coming from trading partners in Mexico, Ireland and the Netherlands.
The FDA said it will work with the US Department of Agriculture, UK and European authorities to expedite entry for products made abroad. The US will also provide logistical help for foreign formula manufacturers sending their products to the country.
Meanwhile, Abbott has struck an agreement with the FDA to take "corrective action" at its Sturgis infant-formula plant.
The site in Michigan, which halted production of formula in February following a voluntary recall amid fears of the presence of Cronobacter sakazakii or Salmonella, could reopen in two weeks "once the FDA confirms the initial requirements for start-up have been met", Abbott said in a statement yesterday (16 May).
However, Abbott reiterated it may take six to eight weeks for products from the Sturgis factory to arrive on retailers' shelves, prolonging a shortage of infant formula in the US.
On 17 February, the FDA warned consumers not to "use certain powdered infant-formula products" produced at Abbott's facility. The company then recalled its Similac, Alimentum and EleCare brands after four consumer complaints related to Cronobacter sakazakii or Salmonella in infants who had consumed powder infant-formula manufactured at the Sturgis plant. Two of the children died.
Abbott said "there is no conclusive evidence to link Abbott's formulas to these infant illnesses" following an investigation in conjunction with the FDA and the Centers for Disease Control and Prevention (CDC).
US publication Politico has reported that the FDA had knowledge of the first case of illness in September. Politico says the agency was also warned about food-safety concerns at the Sturgis plant by a whistleblower in October.