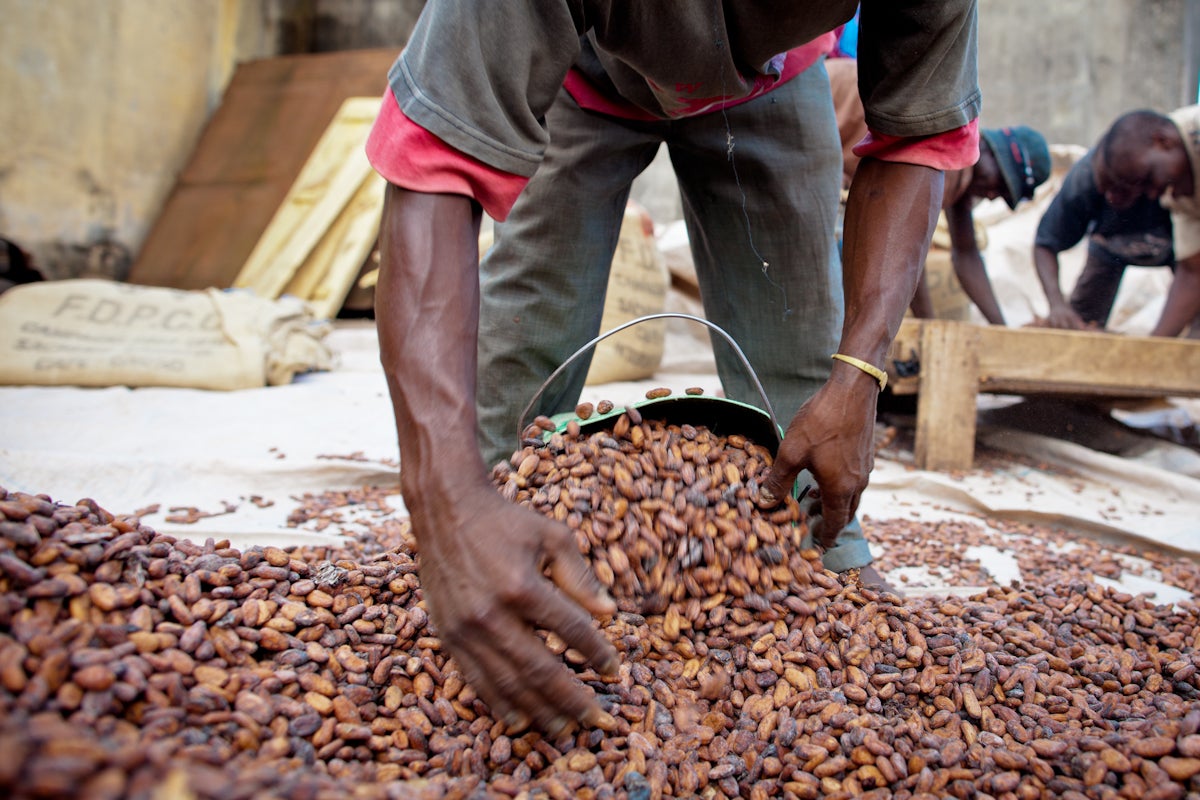 Nestlé has announced a scheme to tackle child-labour risks in cocoa production in west Africa.
One element of the Kit Kat chocolate bar manufacturer's plan is an "income accelerator" programme, which will pay a cash incentive to cocoa-farming households for activities such as enrolling children in school.
Chocolate makers have come under pressure from investors, consumers and governments to make sure the cocoa beans they source are not produced using child labour.
Nestlé suggests its income accelerator offers a "novel approach" to help support farmers and their families in this regard.
"The incentives will encourage behaviours and agricultural practices that are designed to steadily build social and economic resilience over time," it said.
"With Nestlé's new approach, cocoa-farming families will now be rewarded not only for the quantity and quality of cocoa beans they produce but also for the benefits they provide to the environment and local communities. These incentives are on top of the premium introduced by the governments of Côte d'Ivoire and Ghana that Nestlé pays and the premiums Nestlé offers for certified cocoa."
The company said its new plan also supports Nestlé's work to "transform its global sourcing of cocoa to achieve full traceability and segregation for cocoa products".
It plans to invest CHF1.3bn (US$1.41bn) by 2030 in efforts to make its cocoa supply chain more sustainable, which it claims more than triples its current annual investment in this area.
Nestlé CEO Mark Schneider said: "Our goal is to have an additional tangible, positive impact on a growing number of cocoa-farming families, especially in areas where poverty is widespread and resources are scarce, and to help close the living income gap they face over time.
"Building on our long-standing efforts to source cocoa sustainably, we will continue to help children go to school, empower women, improve farming methods and facilitate financial resources. We believe that, together with governments, NGOs and others in the cocoa industry, we can help improve the lives of cocoa-farming families and give children the chance to learn and grow in the safe and healthy environment they deserve."
The programme rewards practices that increase crop productivity and help secure additional sources of income through growing other crops, raising livestock such as chickens, beekeeping or processing other products like cassava. By engaging in these practices, families can additionally earn up to CHF500 annually for the first two years of the programme and CHF250 after that.
It also offers financial incentives for the farmer's spouse, who is typically responsible for household expenses and childcare. Nestlé suggests by dividing the payments between the farmer and the spouse, the programme helps empower women and improve gender equality.
Payments will be delivered via a secure mobile-service transfer that will ensure traceability directly from Nestlé suppliers to the intended recipient.
Nestlé said the plan builds on a pilot in 2020 with 1,000 farmers in Côte d'Ivoire. This year, it will expand the programme to include 10,000 families in the country before extending it to Ghana in 2024. It will then assess the results of that test phase before moving to reach all cocoa-farming families in its global cocoa supply chain by 2030.
The company plans to introduce a range of products with cocoa sourced from this programme, starting with a selection of Kit Kat products in 2023.
In June last year, the US Supreme Court dismissed a lawsuit accusing the US division of Nestlé – as well as agri-food giant Cargill – of child slavery at Ivory Coast cocoa farms.
From the Just Food archive, September 2020: Cocoa partnership puts aside failures with bold new aims on child labour
Attempts to tackle child labour in cocoa have over-promised and under-delivered. Could a new plan from multi-stakeholder body International Cocoa Initiative be different?