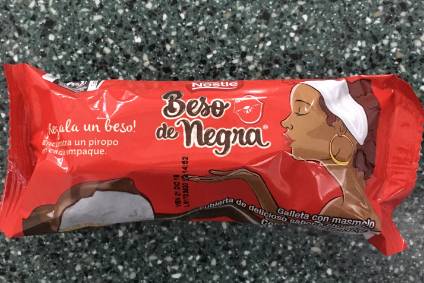 Nestlé is to rename and redesign another product deemed racially insensitive, this one a sweets line sold in Colombia.
Its Beso de Negra candy – which translates as 'kiss from a black woman' – is the latest product facing an overhaul. The company goes through its 25,000 products to eliminate marketing that contains racial stereotypes against a backdrop of of worldwide protests against racial inequality and historical injustices.
Yesterday (23 June), the Switzerland-based company announced it was changing the names of two confectionery brands in Australia, Red Skins and Chicos. Froneri, the ice cream business it runs with private-equity firm PAI Partners, revealed it is to ditch the name and branding of Eskimo Pie, a product sold under its Dreyer's brand.
On ditching the Beso de Negra name and branding, a Nestlé statement sent to just-food said: "In light of increased awareness around inappropriate brand names and visual language, we are carrying out a full review of our portfolio of over 2,000 brands and 25,000 products. This will identify any required changes to our use of imagery or language.
"As part of this process, we are immediately renaming and redesigning a handful of local brands we have found that use stereotypes or insensitive cultural depictions. This is the case for Beso de Negra, a confectionery brand sold in Colombia.
"All Nestlé brands must act in accordance with our values and business culture, and we will make the required changes to ensure this is the case."
Nestlé is not alone in reviewing its food products for racially insensitive branding.
Last week, PepsiCo said it will change the brand name and logo of its US pancake mixes and syrups brand Aunt Jemima after acknowledging their "origins are based on a racial stereotype".
And Mars swiftly followed, announcing "now is the right time to evolve" its Uncle Ben's rice and sauces brand, including its visual brand identity.
Read just-food's commentary: Now's the time to review your brand values – and much more too