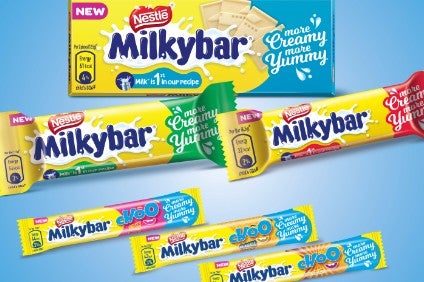 Nestle's moves to lower the sugar in its chocolate products has taken in India.
The world's largest food company, which in February announced a "global commitment" to cut the sugar in its food by 5% by 2020, has relaunched the Milkybar brand in India.
The amount of sugar used in Milkybars sold in India has been reduced "by about 10%", Nestle said. Each bar now contains "close to 8%" more milk.
Nikhil Chand, the general manager of Nestle's chocolate and confectionery business in India, said the move was part of a wider strategy to "raise consumer awareness" about the recipes of the products the company sells in the country. "With the intent of being more transparent, we have mentioned GDA on [the] front of the pack. We have also made concerted efforts to promote portion guidance and all our chocolate and confectionery innovations have lighter treats as part of the portfolio several of which are less than 50 calories per serve."
Nestle declined to comment on whether it would reduce the amount of sugar used in any other chocolate products it markets in India.
This spring, Nestle carried out a similar move on the Milkybars it sells in the UK.
In March, Nestle launched 30% reduced-sugar versions of its Rowntree's Fruit Pastilles and Rowntree's Randoms confectionery in the UK. However, Nestle decided to keep the existing Fruit Pastilles and Randoms lines on sale.