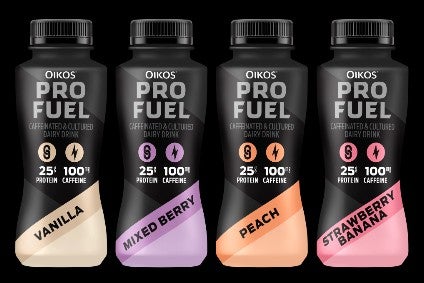 This week's batch of notable new product launches includes plant-based sausages from Kerry Group's Richmond brand and a veg ketchup from Kraft Heinz.
Danone debuts Oikos Pro Fuel caffeinated dairy beverages
Danone's Greek yogurt brand Oikos is launching a high-protein caffeinated dairy beverage in the US.
Oikos Pro Fuel contains 25 grams of protein and 100 grams of caffeine in each 10-ounce bottle. It is made with non-fat milk and is also a source of calcium and potassium. The caffeine comes from coffee berry extract and is equivalent to one cup of coffee. 
The cultured dairy drink is gluten-free and available in four flavours: Vanilla, Mixed Berry, Peach and Strawberry Banana.
Oikos Pro Fuel is available at Walmart at a suggested retail price of US$1.98 and can be found in other grocery retailers nationwide at $2.49. 
James Valdes, the senior brand manager for Oikos, said: "Oikos Pro Fuel is the first product in a new portfolio, which is focused on high-protein and functional nutrition. Within the new portfolio, we will continue to push boundaries with future innovation that reinvents the yogurt and adjacent categories."
Clonakilty rolls out veg 'puddings'
Irish savoury meat business Clonakilty has introduced a vegetable alternative to its animal-based black and white puddings.
Clonakilty Veggie Pudding is made with oats, onions, black beans, carrots and a mixture of spices. They are free from artificial additives and preservatives, and are gluten-free and suitable for vegans. 
Based in the town of the same name in southern Ireland, the family-run artisan business, said the veg puddings are available in select stores in Tesco Ireland, Dunnes Stores, SuperValu, Spar, and Costcutter, as well as its own butchers shop.
Colette Twomey, its co-founder and managing director, said: "Over the years we have continued to evolve our product offering to build on the success of our original black pudding, which was first made almost 150 years ago in Clonakilty West Cork. This has included expanding our range to include White Pudding, Sausages, Rashers and now a Vegetable Pudding. 
"We are excited that our range continues to offer something to suit the tastes of all the family. We are confident that our new Veggie Pudding matches the quality and taste that Clonakilty's most-loyal customers know and love."
Hershey's One Brands targets plant-based
One Brands, the US protein-bar business set to be acquired by Hershey, has taken its range into the plant-based market.
The North Carolina-based company is selling the new bars under the One Plant sub-brand and has developed two varieties: Chocolate Peanut Butter and Banana Nut Bread.
One Brands said the plant-based market for protein bars was "underdeveloped as related to performance, taste and macro-nutrients".
Peter Burns, the One Brands CEO, said: "The industry has been experiencing a significant demand for plant-based alternatives from consumers. We have been listening to consumers who are disappointed with the taste and nutritional profile in this space."
The bars be available at selected GNC, Vitamin Shoppe and Walmart stores from next month.
Hershey is to pay $397m for One Brands, with the transaction expected to close in the fourth quarter of this year.
Kraft Heinz's Primal Kitchen enters pasta sauces
Primal Kitchen, another fledgling US firm owned by one of the country's largest food companies, is to foray into pasta sauce, a new category for the business.
The company, now owned by Kraft Heinz, has developed five flavours, including a no-dairy vodka sauce.
"From the innovative cashew butter creaminess in the vegan alfredos and vodka sauce to organic, California-grown tomatoes in the marinaras, this line offers real food consumers of every lifestyle – from keto to plant-based – clean, Italian-inspired options," founder Mark Sisson claimed.
The pasta sauces, sold in 16-oz. or 24-oz. bottles, will be available at retailers nationwide and on Thrive Market in the autumn.
Primal Kitchen, snapped up by Kraft Heinz last year, markets a range of products including mayonnaise, salad dressings and avocado oil.
Arla "bubble" yogurts, cheese snacks
Arla Foods is launching a new range of yogurts with poppable fruit "bubbles" and also crunchy cheese snacks, all designed for kids.
The six-strong Arla Explorers range are free of artificial flavours, colours, and sweeteners.
The line-up consists of a Swirl yogurt with mango and raspberry; Bubble yogurt with peach (containing bubbles filled with fruit juice); Yogurt with strawberries and banana; Drinking Yogurt with raspberry and blueberry; Cocoa Milk Drink; and Cheese Crunch (a natural cheese that has been formed into a "crisp cheese ball that crackles in the mouth".
Arla Explorers products will be available in the Danish supermarket chain Meny, grocery stores and other supermarkets, and selected Spar and Netto shops in September. The Cocoa milk drink will follow in October.
Swirl will retail for DKK14.95 (US$2.22) for a pack of three 90-gram pots, as will the Bubble yogurts. The strawberry and banana yogurts carry the same price but come in a pack of four 125-gram pots. The 125-ml Drinking yogurts retail for DKK17.95 for a four pack, while the 10-gram cheese snacks will sell at DKK4.95. Cocoa Milk Drink will be available at DKK12.95 for three 200-ml bottles.
Cofresh adds Chips 'N' Dips to street food range
UK-based snacks business Cofresh has added a new twist to its Indian street food range with Chips 'N' Dips.
Cofresh said the three-strong range is based on traditional Indian tiffin boxes and will initially be available in Sainsbury's at a recommended retail price of GBP1.50 (US$1.84). 
Flavour varieties include include Chickpea Crackers with Spicy Tomato Dip, Lentil Scoops with Sweet Chilli Dip and Poppadums with Mango Chutney Dip, all of which a gluten-free and suitable for vegans. 
 "These new snacks are very much of the moment," said Debbie King, the director of commercial sales and marketing at Cofresh. "They're a great snack for consumers to enjoy at home with friends for a big night in, or as an alternative 'to go' lunch option."
Kerry takes Richmond sausages into meat-free
Ireland's Kerry Group has expanded into the alternative protein market with the launch of Richmond Meat-Free Sausages.
This is the first time the traditional sausage brand has been taken into the meat-free area. The company's Kerry Foods arm said the move is intended to "cater to diversifying needs" following the launch of Chicken Sausages last year.
They will be available from major retailers in the UK later this month.
Dawn Spencer, a director at Kerry Foods, said "increasingly consumers are looking for a broader range of options to choose from, and this includes alternatives to meat".
She added: "We're confident people will love our Meat-Free Sausages just as much as our core ranges, making this a must-stock for retailers looking to appeal to families looking to try something new in their weekly shop."
Richmond Meat-Free Sausages are made from a soya-based protein and contain 57.5 calories per sausage. They have an RRP of GBP2.50 (US$3.09) for a pack of eight.
Kraft Heinz unveils ketchup containing 25% veg
US food giant Kraft Heinz has launched a Heinz tomato ketchup in its domestic market it claims will help children consume more vegetables.
The company has created a version of its famous condiment made with added carrots and butternut squash.
Kraft Heinz said the sauce has 25% added veggies, 25% less sugar than regular Heinz Tomato Ketchup and contains no high-fructose corn syrup.
Dalia Adler, associate director of marketing for the Heinz brand, said: "If we were going to add extra veggies to a new recipe, it was important to maintain the same distinctive taste, appearance and texture that have been loved by generations of families for 150 years.
"We went through countless recipes to land on the perfect blend and can't wait to share the end result: a blend that we think will have your ketchup-loving, veggie-hating kids asking for more."
The product, which will available at retailers including Walmart and Amazon, can be purchased in 20oz and 31oz squeeze bottles.
Upfield Foods takes Country Crock into plant-based category
Upfield Foods, the company behind Unilever's former spreads business, is rolling out a plant-based butter in the US it says tastes like its conventional dairy counterpart.
The launch comes under the Country Crock product line, one of the brands inherited from Unilever when the FMCG giant sold its spreads business in 2017 to private-equity firm KKR. The investor formed Upfield Foods to house the line-up – also including Flora, Can't Believe It's Not Butter and Becel.
Country Crock Plant Butter is made with plant-based oils sourced from olives, avocados and almonds. It is gluten-free, kosher-certified and certified plant-based by the Plant Based Foods Association.
Now available in grocers across the US, Country Crock Plant Butter comes in either a tub format – with olive oil or almond oil – or in stick form, with olive oil, almond oil or avocado oil. Both are made from recyclable packaging.
Upfield said the tubs have 40% less saturated fat than dairy butter per tablespoon, while the sticks contain 25% less saturated fat. The 10.5-ounce tubs carry a suggested retail price of US$2.49 and the 16-ounce sticks will retail at $3.49.
Brian Orlando, the chief marketing officer for Upfield in North America, said: "We believe that plant-based eating has a positive impact on health and on the environment, and that plant-based food products should taste delicious."
Lifeway Foods' latest products target children
Lifeway Foods, the US-based supplier of cultured dairy products, is rolling two product lines aimed at those buying for children.
At this week's Natural Products Expo East trade fair in the US, Lifeway will showcase Kefir Minis, a smaller version of its kefir drinks, as well as Plantiful Kids, a pouched counterpart to its already-launched probiotic drink Plantiful.
"The introduction of our Kefir Minis and Plantiful Kids pouches reflects our commitment to creating healthy, probiotic products that will be enjoyed by younger generations and those on-the-go," Lifeway CEO Julie Smolyansky said. "We've uncovered market opportunities to fulfill consumer demand for smaller portion sizes and plant-based probiotics for kids. These strategic additions will round out our portfolio and introduce new families to the Lifeway brand."
Kefir Minis, sold in 3.5oz bottles, are scheduled to be launched in the late fourth quarter of 2019.
New segment for no-added-sugar confectioner Lily's
US confectioner Lily's Sweets, which markets a range of no-added-sugar snacks, is moving into popcorn.
The company is showcasing a range of new SKUs at Expo East this week, including two popcorn products. Like Lily's other chocolate-based snacks, the popcorn is sweetened with stevia.
All nine of the new items, which also include chocolate-covered caramels and dark-chocolate peanut butter cups, will be stocked at Whole Foods Market stores in January.
Colorado-based Lily's, which launched at Whole Foods in 2012, said it was "on track to double the size of its business again in 2019", without disclosing specific numbers.