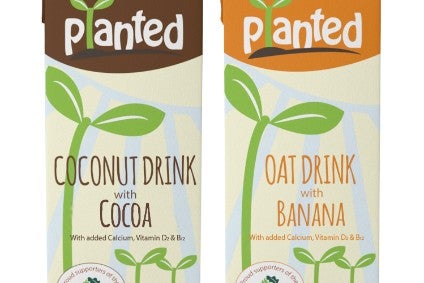 just-food publishes the most notable product development from the international food sector, presented in bitesize format to give you a flavour of the innovation from your peers and competitors announced this week.
Delamere Dairy launches branded plant-based drinks
UK-based Delamere Dairy is launching its first branded plant-based range of milk alternative drinks – Planted.
The Cheshire-based goat's milk specialist said the new product builds on its "track record in dairy alternatives". The launch is being conducted in collaboration with the UK's conservation charity, the Woodland Trust, with 2 British pence from the GBP2.20 (US$2.91) one-litre carton selling price donated.
Two flavours – Coconut with Fairtrade Cocoa and Oat with Banana – will hit the shelves in Asda on 6 August. Four, 330-ml on-the-go varieties are due to follow.
Both Planted products are fortified with calcium, vitamin D and vitamin B12, and are vegan approved by the Vegetarian Society, meaning they are free from animal-derived ingredients, are GMO-free and with no cross-contamination during production.
Oat with Banana is dairy-free, while coconut with cocoa is gluten and dairy-free.
Mars unveils new texture variants of Skittles, Starburst
Mars is launching new variants of the Skittles and Starburst sweets brands in what the confectionery giant calls its "first true texture innovation in 18 years".
Skittles Chewies and Starburst Minis from Mars Wrigley Confectionery are designed to meet the growing demand for alternative textures from consumers and retailers alike, while still retaining the fruity flavours of the brands.
Chewies are a variant of Skittles' hard-shelled, crunchy cousin in what Mars describes as an "underdeveloped segment". The new sweets come in single bags and sharing pouches, with the former available in four sizes ranging from 45 grams to 196 grams at prices between GBP0.49 and GBP1.39 (US$1.83).
Starburst Minis are a smaller version of Starburst Original "unwrapped for easier consumption" and come in the same sizes and price ranges. Mars said that "with proven success in the US, Starburst Minis is currently worth US$30m NSV and is projected to increase in value to $85m by 2020".
PepsiCo takes Quaker into UK breakfast drinks
The US food and drinks giant has entered the breakfast drinks fray in the UK, rolling out a range of products under its Quaker brand.
PepsiCo pointed to the "40% year-on-year growth" in the UK breakfast drinks market, where brands including Weetabix, Fuel 10K and Up & Go do battle.
The company is selling drinks in two flavours – vanilla and red berries. It touted the "86% milk and 11g of protein" in the drinks and claimed the entrance of the Quaker brand into the category would "help dispel" the "belief [breakfast drinks] are too processed".
A 300ml Quaker drink has an RRP of GBP1.45 (US$1.91).
Nestle enters India breakfast cereal market with Nesplus
Nestlé is entering India's breakfast cereal market with Nesplus, which combines wheat, rice, oats and the traditional Indian millet, jowar.
Nesplus, launched by Cereal Partners Worldwide, the Swiss food giant's international breakfast-cereals venture with General Mills, comes in four multigrain variants: Kokos, Choco-Burst Fillows, Strawberry-Burst Fillows and Nutty Honey Granola. A key characteristic of the product is that it remains crunchy in warm milk.
Suresh Narayanan, chairman and managing director at Nestlé India, said the cereal is specifically designed for the Indian consumer and provides a source of vitamin D, calcium, B-vitamins, iron, folic acid and fibre.
According to research from Euromonitor, Kellogg is the largest player in India's breakfast cereals sector, holding a market share of 56% in 2017.
Princes launches Italian-inspired Napolina instant hot snacks
The Princes-owned Napolina brand has launched two new instant hot snack products – Napolina Risotto Bowls and Napolina Pulses and Grains Pots.
Napolina's Risotto Bowls come in three flavours: Wild Mushroom and Thyme, Mediterranean Vegetable and Cherry Tomato and Basil. They are priced at GBP2.00 (US$2.60) for a 320-gram pot and are available in Asda.
Napolina Pulses and Grains Pots are also priced at GBP2.00 and come in three variants: Tuscan Bean Stew with Quinoa, Spicy Tomato and Red Lentil Stew with Pearl Barley & Basil, and Mediterranean Vegetable Stew with Bulgur Wheat and Garlic.
Neil Brownbill, Napolina's commercial director, said: "There was a clear gap in the instant hot snacks category for Italian style meals outside of pasta and sauce pot products. Napolina is well positioned to enter this market with a range of quality and authentic Italian products, offering health and convenience simultaneously."
Naturli' Foods launches into dairy-free in UK
The Denmark-based dairy and meat alternatives supplier has stepped up its offensive in the UK with a move into dairy free.
Naturli, which last month launched a line of meat-free products at Sainsbury's, has rolled out an organic vegan spread at the same retailer, the second-largest grocer in the UK.
The spread has gone on sale at 170 Sainsbury's stores. Tom Baird, the butter and spreads buyer at Sainsbury's, said: "We know our consumers are increasingly seeking out 100% plant-based products which don't compromise on taste and this includes staples such as butter and spreads."
Naturli' first launched the product a year ago in Denmark. It also on sale in Sweden and Germany. The last 12 months have also seen Naturli' roll out a range of vegan ice cream in Denmark.
The company, owned since 2010 by Danish margarine supplier Dragsbaek, was set up in 1988, selling alternatives to milk in Denmark, such as soy, rice and almond 'milks'. Lund says Naturli' accounts for 70% of Denmark's market for plant-based 'milks'.
Four years ago, the company launched its first alternatives to meat.
just-food interview from June 2018: "We will take plant-based to the next level" – Naturli' Foods CEO Henrik Lund on Danish firm's push into meat-free