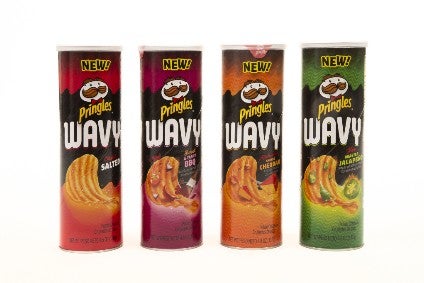 This week's new products include two yogurts from French dairy giant Danone in the US and an addition to Mondelez's biscuit range in India.
Kellogg introduces Rice Krispies, Pringles snacks
Kellogg is introducing three new snacks under its Rice Krispies, Pringles and Cheez-It brands.
Rice Krispies Treats are a bite-sized snack launched in three flavours: Chocolatey, Vanilla Crème, and Cookies 'n' Crème.
Pringles Wavy are a variation of Pringles crisps but with a thicker wavy texture. They are available in Fire Roasted Jalapeño; Classic Salted; Sweet & Tangy BBQ; and Applewood Smoked Cheddar.
Cheez-It Snap'd offer a range of cheese flavours including Double Cheese; Jalapeño Jack; Cheddar; Sour Cream & Onion; and White Cheddar & Bacon.

Barilla rolls out much-anticipated chocolate and hazelnut spread
Italian food giant Barilla is rolling out a much-anticipated chocolate and hazelnut spread under its Pan di Stelle brand.
Crema Pan di Stelle will launch in Italy across all nationwide food retailers in January.
The spread contains 100% Italian-sourced hazelnuts and Pan di Stelle cookie crumbs, and has no palm oil. It will be available in 330-gram jars with an aluminium lid instead of plastic to reduce any environmental impact.
Barilla said "great care was also given to the product's nutritional profile, with a particular focus on the amount of sugar and saturated fats".
Media sources reported in November that Barilla was launching a new spread to rival Ferrero's Nutella brand, in the belief the Italian manufacturer was encroaching on the former's biscuits business.
Mondelez adds to biscuit portfolio in India
Mondelez International has launched another biscuit product in India – and done so through a product strategy the snacks giant has used in a number of markets worldwide.
The company has brought together global biscuit brand Oreo and flagship chocolate brand Cadbury to market Oreo Cadbury Dipped in the country.
Sudhanshu Nagpal, the head of the biscuit category in Mondelez's portfolio in India said, "We believe that Oreo Cadbury Dipped will further strengthen our position in the fast emerging chocobakery segment, which is truly a cross-pollination of our iconic chocolate and biscuit category, delivering a delightful and unique experience for the consumer. After Oreo and Bournvita Biscuits, the launch of Oreo Cadbury Dipped will certainly open up interesting avenues in the snacking domain."
The launch kicked-off with an exclusive preview tie-up with ABRL More Megastores and Indian e-commerce player Flipkart. They will also roll out in Modern Trade, Traditional Trade and across e-commerce channels. The biscuits will be available in two SKUs, priced at INR20 (US$0.28) for a pack of three biscuits, and INR60 for a three pack.
Danone hits North America with twin yogurt launch – Two Good, Oh yogurts
Danone is launching two yogurts in the US to cater to what the French dairy giant says is rising consumer demand for low-sugar varieties and indulgent treats.
Two Good is a Greek-style, low-fat yogurt made by Danone's Light & Fit brand containing two grams of sugar, 12 grams of protein and 80 calories per 5.3-ounce serving.
Danone says Two Good has 85% less sugar than average yogurts and is available now in major grocery stores in Vanilla, Mixed Berry, Peach, Strawberry, and Blueberry. At a recommended retail price of US$1.49, it will roll out nationwide in January.
Danone's other new launch is Oh!, a double cream indulgent yogurt from its Oikos brand. Flavours include: Lemon Sweet Cream Delight; Magnificent Mixed Berry Rhubarb; Salt-Dusted Caramel Crème; and Honey Drizzled Blueberry. The 5.3-ounce cups will be available in single-serve at $1.49.
"We developed these innovations purposefully to directly address not only current consumer needs and desires but concerns as well," Danone said. "With Oikos, we've tackled consumer desire, and with Two Good, we're addressing the sugar concern head on."
US brand Le-Vel launches Thrive Bites beef snacks
Le-Vel, a US-based health and wellness brand, is rolling out a new dried beef snack range under its Thrive label.
Thrive Bites are made with US beef from pasture-raised cattle, fed on a vegetarian and organic diet. The meat snacks contain no preservatives, fillers, added hormones or antibiotics, and are 98% fat-free with 70 to 80 calories per serving.
They come in three flavours: Black Pepper & Sea Salt; Savoury Garlic; and Sweet & Spicy.
Founded in 2012, Le-Vel also exports to Canada, Australia, New Zealand, the UK, and Mexico.
Healthy by Nature's sugar-free baking mixes to hit UK multiple
A range of sugar-free baking mixes are to hit the UK market next year, including at one of the country's Big Four supermarkets.
The Total Sweet mixes have been developed by Lincoln-based Healthy by Nature, which has secured a listing on Amazon and also with with "one major supermarket" in the UK – either Tesco, Sainsbury's, Asda or Morrisons – although the company declined to specify which of the chains.
"Whilst the home baking category is worth over GBP700m, it's growth has more or less ground to a halt in recent years. Two of the main reasons cited for this are 'shoppers looking to eat healthier' and 'not having time to bake anymore," Healthy by Nature managing director Daniel Reeds said.
"We appreciate that we're not the first to market with healthy cake mixes, but there is a huge difference between our range and what has come before. Firstly we're genuinely sugar-free, not 'no added sugar' or 'reduced sugar', secondly, and perhaps more importantly, there is no taste difference between cakes made with our mixes and those made with sugar-laden mixes."
Healthy by Nature is the firm behind the Total Sweet Xylitol sweetener. According to Total Sweet's website, the sweetener is available at retailers including Tesco, Sainsbury's and Asda.
Albert Bartlett ventures into own-label with Asda contract win
UK-based potato business Albert Bartlett has won a new listing with Asda to supply the supermarket with a range of own-label chilled products.
It is the Airdrie, Scotland-based company's first venture into private label and will see the new mash products on the shelves of 590 Asda stores nationwide, including 60 in its home market.
The range includes a regular Asda mashed potato at a recommended retail price of GBP0.80 (US$1.01), along with five other varieties: Asda Cheese Mash; Asda Mashed Sweet Potato; Asda Root Mash; Extra Special Creamy Mash; and Extra Special Cheese Mash.
Albert Bartlett said it has worked with Asda for more than 12 years, and the new launch follows the company's GBP18m investment in its plant in Airdrie.