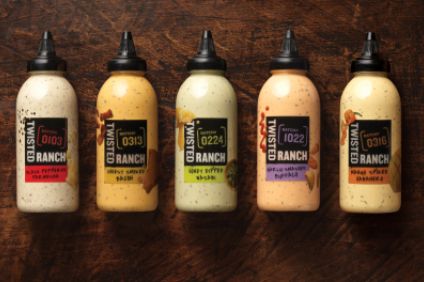 This week's batch of new products includes Upfield Foods making Flora 100% vegan and Weetabix making a push in UK foodservice.
Kraft Heinz links up with restaurant on Twisted Ranch dressings
US food giant Kraft Heinz has joined forces with popular St Louis restaurant Twisted Ranch to launch a new lines of salad dressings.
The Twisted Ranch line is available in five flavour varieties: Black Pepper Parmesan, Cheesy Smoked Bacon, Honey Dipped Wasabi, Garlic Smashed Buffalo and Mango Spiked Habanero.
Twisted Ranch, the restaurant, was founded in 2015 by Jim Hayden and Chad Allen and has attracted a large following. Everything on the menu is made in-house and every item incorporates its own ranch seasoning and ranch flavours.
Allen said: "With the help of Kraft Heinz, we've been able to bring our one-of-a-kind ranch dressings from St Louis to ranch nation, no wait time required."
Twisted Ranch will be available in grocery stores nationwide and has a RRP of US$3.29 for a 13oz bottle.
Dean Foods-owned DairyPure moves cottage cheese Mix-Ins into savoury
DairyPure, owned by US dairy giant Dean Foods, has extended its DairyPure Mix-ins line of cottage cheese into savoury flavours.
Launched last year with four fruit flavours: Blueberry, Peach & Pecan, Pineapple, and Strawberry & Almond, the company has expanded the line to include Blackberries & Granola, as well as two new savoury flavors; Creamy Jalapeño & Tortilla Strips and Sundried Tomato & Croutons.
DairyPure Mix-ins is a low-fat, high-protein cottage cheese product packaged in single-serve containers, "making them convenient for on-the-go snacking," DairyPure suggests.
Joe Reske, senior director, marketing, DairyPure, said: "At Dean Foods, we saw an opportunity to shift the perception of cottage cheese as old-fashioned and provide exciting options in a category that has long suffered from a lack of innovation. Our new line of Mix-ins does just that."
DairyPure Mix-ins have no artificial flavours, sweeteners or artificial growth hormones.
Mondelez expands Dairylea range with three new lines
Mondelez International is introducing three new lines to its Dairylea brand across the Snackers, Lunchables and Dunkers ranges.
Dairylea Snackers with Cadbury Giant Buttons combine cheese slices, crackers and Cadbury chocolate buttons. They are available now in a 76.8-gram pack size.
Dairylea Dunkers Cheesy Cones are available from 1 April in 40-gram portions in a pack of four. Each portion is less than 100kcal.
Dairylea Lunchables Streetfood Pizza combine Dairylea cheese with mini pizza bases and a tangy pizza sauce. They will roll out from 8 April in 65-gram packs.
Samworth Brothers-owned SCI-MX unveils high protein snack range PRO 2GO
SCI-MX, the UK sports nutrition business owned by food firm Samworth Brothers, has launched PRO 2GO, a range of high protein snacks.
The company said the range "taps into the protein market's major transformation from a more traditional sports nutrition offer to that of mainstream everyday snacking".
PRO 2GO's range includes "gooey" bars, with a liquid centre, raw bars which are vegan and come in two portions, high fibre flapjacks and gluten-free bakes.
Steve Rich, sales & marketing director of PRO 2GO, said: "People are becoming increasingly aware and the importance of well-being and the benefits of exercise good nutrition from both a physical and mental perspective, to the point that health is now lifestyle. The snacking space is becoming much more sophisticated as consumers seek out products that support their lifestyle, ensuring their choices contribute to help meet their overall health demands."
The products will be sold via major retailers including Asda, Morrisons, Tesco and Sainsbury's. The RRP ranges from GBP0.89p (US$1.16) to GBP2.49.
Mars launches Skittles in India
Skittles has joined Mars' confectionery portfolio in India.
Two lines – original fruits and wild berry – are available in the country.
Mars is selling the products in 40 cities across India. Three SKUs are on sale – tubes priced at INR50 (US$0.72), resealable pouches at INR75 and "party packs" at INR150. The brand will also be available on Amazon.in.
Andrew Leakey, the general manager for the Mars Wrigley Confectionery business in India, said: "India is a priority market for Mars Wrigley Confectionery and we are committed to bringing our best-loved brands to Indian consumers. Skittles will lead the fruit confectionery segment for us in India."
Finsbury Food partners with Weetabix in breakfast muffins
UK bakery business Finsbury Food Group is producing a range of breakfast muffins for Weetabix, the cereal brand owned by Post Holdings.
The Weetabix Muffins, which will be manufactured by Finsbury Foods' foodservice division Kara, are low in saturated fat and salt, and are a source of fibre. They are available as a four-pack in three varieties: Apricot and Oat; Apple and Raisin; and Blueberry.
Select Tesco stores will stock the muffins at a recommended retail price of GBP1.80 (US$2.37), while they will also be supplied to foodservice channels.
Jon Cooper, the business director at the Fletcher's manufacturing plant that is producing the muffins, said: "We were delighted to be working with Weetabix on this new range. We pride ourselves on creating and producing products that fill a gap in the market and answer the needs of the modern-day consumer. This is definitely a product that works both in home and out of home and can channel the perceptions that healthier muffins mean less taste."
Kellogg-owned MorningStar Farms to sell its Veggie Burgers in Canada
US food group MorningStar Farms, owned by Kellogg, has revealed its Veggie Burgers will be on sale in Canada from next month.
The launch includes three variants – Harvest Veggie Burgers, Spicy Black Bean Burgers and Mediterranean Chickpea Burgers.
The burgers contain no artificial colours, flavours or trans-fats. They are a source of fibre, certified Kosher and made with plant-based ingredients.
MorningStar Farms points to a growing appetite for plant-based food in Canada.
Christine Jakovcic, VP marketing, Kellogg Canada, said: "MorningStar Farms is excited to share our great taste, texture and high protein options with Canadians."
The burgers will be sold via major Canadian grocery retailers.
Quorn taps plant-based burger demand
UK-based meat-free manufacturer Quorn Foods is introducing its Ultimate Burger.
Made with beetroot juice to mimic regular meat-based burgers, the Quorn Ultimate Burger is in Tesco, Asda and Sainsbury's, with other listings in the pipeline.
Quorn said that "unlike other plant-based burgers" on the market, the Ultimate Burger contains no soy, and is a source of protein and fibre.
Each 227-gram pack contains two thick-cut quarter-pounder patties at a recommended retail price of GBP2.99 (US$2.64).
"With this launch, we believe we can drive penetration of the meat-free category by appealing to meat reducers, vegetarians and vegans alike with an innovative product that truly delivers on key attributes of taste, texture and appearance," said Alex Glen, the marketing director at Quorn Foods.
Upfield moves Flora spreads range to 100% plant-based
Spreads brand Flora is now 100% plant-based, its owner Upfield has announced.
The spreads are now made with just seven ingredients.
Clare Preedy, senior marketing manager, said: "Flora has a heritage of championing sunflower goodness, which is why we're taking our passion for plants to the next level by becoming 100% plant-based. We believe in the goodness of plants and the benefits they bring, without compromising on taste."
The range is made up of Flora Original, Flora, Flora Light, Flora Buttery and Flora Dairy-Free.
Natural Balance Foods expands Trek range with Protein Nut Bar
UK-based Natural Balance Foods has extended its Trek snack bar range with the launch of the Protein Nut Bar.
There are four variants – Dark Chocolate and Sea Salt, Blueberry and Pumpkin Seed, Dark Chocolate and Orange and Coconut and Raspberry. Each 40g bar contains 10g of plant-based protein and less than 5g of sugar.
The single bars have a RRP of GBP0.99 (US$1.30), while multi-packs of 3x40g bars have a RRP of GBP2.50.
Available now at Waitrose and Wholefoods, the bars will be sold at Asda from 25 April.
PepsiCo's Off the Eaten Path plant-based snack brand rolls out in Australia
Off the Eaten Path, the plant-based snacks business owned by US food and drink giant PepsiCo, has launched in Australia.
The two-strong range – Pea & Pinto Bean Sticks and Nut Mixes – is available in Woolworths, Independent Supermarkets and select petrol and convenience stores at recommended retail prices of AUD3.99 (US$2.83) and AUD3.50, respectively.
Pea & Pinto Bean Sticks are made up of green peas, pinto and white beans and come in three varieties: Garlic and Herb, Sea Salt and Spring Onion. The Nut Mixes are available in Sweet Chilli or Lemongrass and Coconut.
Both are suitable for vegetarians, are MSG-free, and have no artificial colours or flavourings. They also contain 35% real legumes.
Conagra Brands expands Bird Eye range in US with Oven Roasters
Conagra Brands, which owns the Birds Eye frozen food brand in the US, has expanded the line's vegetable offering with the launch of Oven Roasters and additional offerings under the Veggie Made roster.
OvenRoasters, pre-seasoned with sea salt, black pepper and herbs, are described as sheet pan vegetables and Conagra suggests they make "roasting vegetables easier than they've ever been before".
Varieties include Broccoli and Cauliflower, Brussels Sprouts & Carrots, Red Potatoes & Onions, and Sweet Potatoes, Carrots & Red Potatoes.
The Veggie Made line is being expanded to include Mac & Cheese – in Cheddar Cheese and White Cheddar variants – and new varieties of sides such as Riced Cauliflower & Broccoli and Tots & Fries.
Adam Webb, brand manager at Birds Eye, said: "With the addition of innovations like OvenRoasters and Veggie Made Mac & Cheese, we've introduced flavourful, nutritional options that can be enjoyed without sacrificing taste or time that could be spent tackling other daily tasks."
Birds Eye OvenRoasters, Veggie Made Mac & Cheese and Veggie Made Riced Cauliflower and Broccoli are available at retailers nationwide with an RRP ranging from US$2.99 to $3.99.
Kerry Foods new Fridge Raiders snack combos
Ireland-based Kerry Foods is launching a cheese and nut snacking combination under its Fridge Raiders brand.
Fridge Raiders Cheese and Nut Combos – Sea Salt & Pepper and Honey BBQ varieties – will roll out in April with listings in Tesco and Asda. The snacks are high in protein and contain fewer than 170 calories.
Kerry Foods is supporting the launch of the single and multipack formats with a GBP1.5m (US$1.98) marketing campaign.
The 40-gram single packs carry a recommended retail price of GBP1.00, while the multipacks of three will retail at GBP2.50.
Marmite Peanut Butter from Unilever hits shelves
Anglo-Dutch consumer goods giant Unilever is rolling out a peanut butter variant of its Marmite spread.
Camilla Williamson, the UK brand manager for Marmite and Bovril, said: "Marmite fans love talking about the brand and sharing their favourite recipe creations on social media. So when we saw a huge number of them were mixing Marmite with peanut butter, it got us thinking about how we could make life a whole lot easier for them and give them something to go nutty about"

The new spread, which is rich in vitamin B and has no added sugar or palm oil, retains the familiar yellow lid and brand colours and comes in a 225-gram jar at a recommended retail price of GBP2.50 (US$3.30).
Bite UK teams up with Yo Sushi in rice cakes, pop chips
Bite UK Snacks is once again teaming up with the Yo Sushi brand to produce rice cakes and pop chips.
Bite, which is owned by UK crisp maker Tayto Group and recently changed its name, is manufacturing the snacks exclusively for Yo to add to the Japanese food company's listings in Tesco and its own restaurants.
The Yo! Rice Cakes come in two varieties, Chocolate and Salted Caramel and Chocolate and Coconut, in 39-gram packets, while the Pop Chips are available in 20-gram bags in Salt and Vinegar and BBQ. Both are launching this month.
Bite says the Pop Chips are a healthier alternative to fried snacks and contain over 50% less fat compared to a fried potato crisp, and are popped and not fried during the production process.