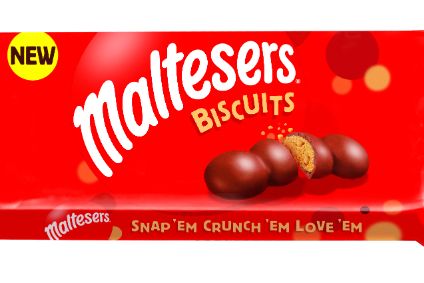 This week's batch of new products includes Unilever launching Magnum Ruby ice cream, Mars and Burton's teaming up on biscuits and lower-sugar kids' SKUs from Lactalis' Siggi's.
Mars links up with Burton's to take Maltesers brand into biscuits
US confectionery heavyweight Mars has launched Maltesers biscuits in the UK
The launch is the first time the confectionery brand has been seen in the biscuit aisle.
The new product are being manufactured for Mars by UK-based Burton's Biscuit Co., which has worked with the chocolate giant on previous biscuit launches for brands such as Galaxy, Mars and Bounty.
Each biscuit is said to comprise three "delicious malty bobbles, covered in smooth milk chocolate to create a unique snap and crunch eating sensation".
Michelle Frost, general manager at Mars Chocolate Drinks and Treats said: "We are really excited to be introducing this iconic brand into the biscuit aisle for the first time. We believe that a combination of the innovative format, unique malty taste and the popularity of the brand will drive new consumers to the category in addition to providing something new and exciting for regular biscuit fans."
Maltesers Biscuits are available in Asda now and from Sainsbury's and Tesco from March onwards with a RRP of GBP1.49 (US$1.94) for a 110g pack.
Nomad Foods launches Green Cuisine range in Germany under Iglo brand
UK-based Nomad Foods has launched its frozen meatless range Green Cuisine in Germany under its Iglo brand.
The range, branded as Birds Eye in the UK, consists of four pea-based ready meals and five individual products with a "short list of ingredients and no yeast extract".
Iglo said the pea-based products are the "perfect choice for all consumers who focus on full taste, but [are] more conscious of the environment and your own health".
Antje Schubert, managing director of Iglo western Europe, said: "With a wide range of frozen products around vegetable, we deliver proteins.
"Our goal is nothing less than – together with retail – to establish a completely new category in the frozen food segment."
The plant-based ready meals are lasagne, vegetable Bolognese, fusilli in cream sauce with sliced ??'meat; and a chili.
The range also includes mince, BBQ stripes, burger patties, mini schnitzel and meatballs.
US vegan brand Tofurky launches plant-based burgers
Tofurky, a US headquartered vegan products firm, has launched plant-based 'beef' burgers in 600 Target stores across the country.
The Plant-Based Burger by Tofurky is made with soy protein, vegetable protein, and wheat gluten, seasoned with salt, onion, garlic and black pepper. They are 100% non-GMO and vegan. The two-patty packs carry a suggested retail price of US$5.99.
Jaime Athos, president and chief executive of Tofurky, said: "I can't wait for Target shoppers to try our new Plant-Based Burger. We are very happy with the final recipe and beef-style texture. Many flexitarians resolve to go completely plant-based for the month of January, so we wanted to provide a new burger option now, ahead of summer grilling, that is affordable, delicious, and accessible."
The Hood River, Oregon-headquartered business was founded in 1980 by Seth Tibbott, initially offering alternative turkey-based products.
Unilever launches Magnum Ruby in the UK
Anglo-Dutch consumer goods giant Unilever has launched a ruby chocolate version of its Magnum ice cream product in the UK.
It claims to be the first brand to launch ruby chocolate ice cream in the UK.
Described as the fourth type of chocolate after dark, milk and white, ruby chocolate was crafted by Swiss cocoa and chocolate products supplier Barry Callebaut.
On its new product launch, Andre Burger, VP for ice ream and snacking at Unilever UK&I, said: "Magnum Ruby opens up a whole new world of indulgence when it comes to ice cream. We're the first brand in the world to pair Ruby chocolate with ice cream, offering UK&I pleasure seekers the chance to try an exclusive taste experience like never before
"The indulgent velvety white chocolate ice cream is enriched with a luscious raspberry sauce swirl and coated in Magnum's signature cracking Ruby couverture chocolate. Ruby chocolate is not bitter, milky or sweet but introduces the nation to a unique berry-like chocolate taste experience."
The Magnum Ruby is available in stores nationally now with a RRP of GBP3.69 (US$4.83) for a three stick multipack, GBP3.89 for a six mini stick multipack, and GBP2.00 for a single stick.
PepsiCo takes Cheetos snacks brand into popcorn
US food and beverage giant PepsiCo has taken its Cheetos cheesy snacks into a new area with the launch of Cheetos Popcorn in its home market.
According to PepsiCo "Cheetos' new ready-to-eat popcorn brings the legendary taste of the iconic Cheetos seasoning to one of America's snacking favourites, swapping the butter and salt for the cheesy and spicy flavours fans know and love".
The new product is available in two flavours – Cheddar and Flamin' Hot.
Brandi Ray, senior director of marketing at PepsiCo's Frito-Lay North America snacking arm, said: "We've seen the way Cheetos lovers don their red- and orange-dusted fingers like a badge of honour, and we're always looking for ways to help them step up their snacking game.
"The only way to truly take popcorn to the next level is to add the iconic Cheetle, the cheesy dust that will entice Cheetos fans to snack on this popcorn all year long."
Cheetos Popcorn is available now in 7oz Cheddar bags and 6.5oz Flamin' Hot bags for a recommended retail price (RRP) of US$3.99, and 2oz bags for a RRP of $1.89.
Nestle debuts oat-based Nesquik in US
Swiss food giant Nestlé has launched a non-dairy product line in the US via a variant of its Nesquik flavoured milk brand.
Nesquik GoodNes is said to deliver "the delicious chocolate taste you know and love from Nesquik with a good source of plant-based protein".
Nestlé said the launch was inspired by recent trends of consumers seeking plant-based options with more protein and less sugar.
GoodNes launches with a Chocolate Oat Milk variety. It contains 6g of plant-based protein per cup from a blend of oat and pea protein and has 40% less sugar than "regular chocolate almond milk".
It is gluten-free and has no GMO ingredients, artificial colours, flavours or sweeteners.

Nesquik GoodNes Chocolate Oat Milk is available in 46 fl-oz bottles for a recommended retail price of US$4.59. It will hit shelves nationwide this month.
Siggi's launches lower sugar kids' yogurt pouches
Siggi's, the US yogurt business owned by French dairy giant Lactalis, has launched lower sugar kids' yogurt pouches.
It claims the pouches contain 50% less sugar and 30% fewer ingredients than "leading" kids' yogurts. Siggi's said the kids pouches are part of a year-long series of product launches which also includes a plant-based product line and yogurt with almond butter.
The pouches will be rolled out at stores nationwide beginning this month. Launch flavours are Strawberry & Banana and Blueberry. The recommended price for a pack of four is US$5.49.
Company founder Siggi Hilmarsson said: "When I started Siggi's in my New York City apartment, I focused on simple yogurts with less sugar. So I am now excited to introduce a product that kids will love to eat, and parents will love to serve."
Siggi's began in 2004 when Hilmarsson felt homesick for a staple of his childhood diet, Skyr, a thick, creamy, high-protein yogurt from his native Iceland.
In December, Lactalis announced it was to take its US-based Siggi's yogurt brand into the plant-based category.