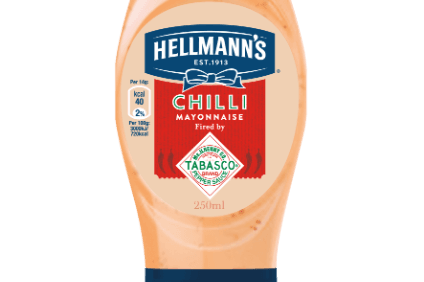 just-food publishes the most notable product development from the international food sector, presented in bitesize format to give you a flavour of the innovation from your peers and competitors announced this week.
Mondelez launches Joyfills biscuits
Mondelez International is rolling out another range of biscuits in Europe, with the cream-filled Joyfills range hitting shelves in the UK.
Four products are to go on sale, with Mondelez marketing the products under two of its "power brands" – Cadbury and Oreo.
Mondelez describes the snacks as "sweet crispy wheat pillows" containing fillings such as cocoa and vanilla, or milk chocolate.
The 90g packs have a recommended retail price of GBP1.50 (US$1.95).
"With increasingly busy lifestyles and an always-on mindset consumers are increasingly looking for convenient, bite sized treats that deliver on delicious taste," Mondelez said, adding: "Each Joyfill bite is just one gram in size, but packed with great taste and textures, with an airy crispy casing filled with delicious ultra-smooth crème."
Unilever's Hellmann's links up with Tabasco owner on chilli mayo product
Hellmann's, the UK mayonanaise brand owned by Unilever, has joined forces with Tabasco, the US hot sauce brand owned by McIlhenny Company, to launch a combined flavours line.
The Hellmann's Chilli Mayonnaise Fired by Tabasco Sauce product is designed to tap into the growing market in the UK for spicy food accompaniments.
Jon Walbancke, brand building director for Unilever in the UK and Ireland, said: "With the trend for flavoured mayonnaise continuing to grow, plus hot sauces also rising in popularity, it made perfect sense for us, as the UK's number one mayonnaise brand, to create the ultimate fiery chilli mayonnaise.
"With sales of mayonnaise overtaking ketchup for the first-time last year, ketchup is now feeling the heat, making it the perfect time to launch this sizzling new combination."
Hellmann's Chilli Mayonnaise Fired by Tabasco Sauce will be available in a 250ml squeezy bottle with a RRP of GBP1.99 (US$2.60).
Kind rolls out granola bars for children
US snacks business Kind has developed a range of granola bars targeted at children.
The company said the Kind Kids gluten-free bars have 25% less sugar than the "leading kids granola bar" (which it didn't name) but do have 100% whole grains The bars "do not contain any artificial flavors, colors, preservatives or genetically engineered ingredients", Kind added.
Kind is giving parents/children/whoever buys the bars the chance of a refund if they don't pass muster.
"We know how hard it is for parents to find healthy options that their kids will actually eat. That's why, when crafting Kind Kids, we intentionally balanced nutritious ingredients with delicious flavour to ensure the bars would be a lunchbox win for everyone. If we're wrong and kids don't love the taste, we'll give parents their money back," Jon Lesser, vice president of marketing at Kind, said.
The bars come in three flavours: Chocolate Chip; Peanut Butter Chocolate Chip; and Honey Oat. They are available at retailers suggested retail price of US$3.99 for a pack of six.
Mars launches Dolmio Veggie Goodness sauces
Dolmio, the pasta sauce brand owned by Mars, is being expanded with new variants providing two of the recommended five-a-day portions of vegetables.
The new Dolmio Veggie Goodness sauces, in 340g pouches, come in fours flavours – sun-ripened tomato, courgette and basil, sun-ripened tomato, sweet pepper and chilli, sun-ripened tomato, lentil and garlic and a smooth tomato and hidden vegetables Bolognese sauce.
The sauces are all high in fibre, a source of potassium and contain no artificial colours, flavours or preservatives.
Ian Nundy, marketing manager for Dolmio, said: "Consumers are always looking for ways to make their favourite meals a little healthier and know that five portions or more of fruit and vegetables can contribute to that, but many of us just aren't eating enough. That's why we created Veggie Goodness – they're packed with vegetables to provide a quick, convenient and healthy way to two of your five-a-day."
Dolmio Veggie Goodness has a RRP of GBP1.99 (US$2.60).
Nestle unveils A+ milk in Sri Lanka
Food giant Nestlé has launched Nestlé A+ – a full cream, UHT milk – in Sri Lanka.
The Switzerland-based company said the product is made from high quality fresh milk collected from around 20,000 Sri Lankan farmers and will cater for growing demand for liquid milk in the country.
Shivani Hegde, Nestlé's local managing director, said: "We're proud to launch yet another product that not only meets the nutritional needs of our consumers but also contributes to the livelihood of local Sri Lankan farmers."

Nestlé began working with the government and local farmers in the 1980s to implement its milk-district model and increase the yield and quality of local milk.
Legumes and pulses in new Florette range in Spain
Agrial, the French agri-food co-op, has added to the range of Florette salad products it sells in Spain.
The company is offering prepared salad products containing legumes like chickpeas and lentils and pulses such as couscous and quinoa.
Citing data from Kantar, Agrial said the consumption of salads containing legumes and cereals in Spain has risen 30% since 2012.
Spain is a major market for Agrial outside France, with the Florette business having six production facilities in the country.
Nestle unveils Breakfast to Go range
Cereal Partners Worldwide, the international breakfast venture between Nestlé and General Mills, has launched a Breakfast to Go range in the UK.
The business claims it is the "first packaged cereal and milk solution".
Cereal Partners Worldwide points to research it says shows more than one in ten (15%) adults in the UK eat breakfast at work or on-the-go, rising to almost a quarter (24%) of those aged 25-34 and one fifth (21%) of those aged 35-44.
The new packs come in a choice of two cereals: Shreddies or Shredded Wheat Honey & Nut. Each contains a pot of cereal, milk and a spoon.
Gharry Eccles, vice president for Nestlé Cereals in the UK and Australia, said: "The Breakfast to Go products have everything you need to enjoy a bowl of one of your favourite cereals, anywhere, anytime."
The new packs – which contain 45g of cereal and 189ml of semi-skimmed UHT milk – will hit the shelves of retailers this month with an RRP of GBP1.99 (US$2.60).
Lactalis' Siggi's brings Simple Sides to US market
Siggi's, the US-based maker of Icelandic style skyr yogurt owned by French dairy giant Lactalis, has expanded its range in its home market with the launch of Simple Sides.
The product line brings together whole-milk yogurt and no-added-sugar add-ins and contains more protein than sugar.
Flavours include vanilla yogurt with dried coconut & cacao nibs, honey yogurt with dried figs & walnuts, vanilla yogurt with almonds & dried cherries and plain yogurt with muesli & currants.
The product varieties contain on average 15 grams of protein and 11 grams of sugar per 5.3 ounce serving.
Siggi Hilmarsson, founder of Siggi's, said: "Yogurt with crunchy, tasty toppings as a side has become a popular snack among consumers in recent years. However many of those offerings are sadly more comparable to sugary treats than wholesome snacks.
"Siggi's Simple Sides combine some of our classic yogurt flavours with simple toppings like dried fruit, nuts and coconut. All these toppings are made without any added sugar."
The product has a RRP of US$1.99.
Halo Top offers dairy-free ice cream in the UK
Halo Top, the US-based better-for-you ice cream brand, has launched three dairy-free, vegan friendly varieties in the UK market.
It has launched Sea Salt Caramel, Toasted Coconut and Peanut Butter Cup dairy-free ice cream tubs, which contain 320 calories each. They are made from coconut milk.
The first two SKUs are available in Tesco at GBP5.00 (US$6.56) per 473ml pot.
Halo Top, which emphasises its low calorie, low sugar credentials. became the best-selling ice cream pint in the US in July last year.
The company entered the UK market in January with seven flavours.
Doug Bouton, Halo Top president and COO, said: "It's incredible to have the opportunity to launch our non-dairy line in the UK so soon after launching our dairy line, which is a true testament to the response from our UK fans across the pond. It's exciting to think that we can now reach an entirely new UK consumer, and we can't wait to expand our non-dairy and vegan range in the future."
just-food analysis: US ice cream deep-dive part one – the march of the disruptors
just-food analysis: US ice cream deep-dive, part two – how might the larger players fight back?
Premier Foods' noodle work takes in Sharwood's
UK manufacturer Premier Foods, which is seeing its Batchelors noodle brand grow partly on the back of pot products, has added the format to ethnic-cuisine brand Sharwood's.
Premier has developed three flavours – Chicken Chow Mein, Sweet Chilli Chicken and Sweet & Sour – for its Sharwood's Noodle & Sauce Pots.
Citing IRI data for the year to 23 June, the company said Premier was the UK's "number one brand in Chinese cooking sauces and accompaniments".
Yilmaz Erceyes, Premier's marketing director, said: "This range successfully combines Premier Foods' expertise in the quick meals category and the quality Sharwood's brand, which has already established itself as a consumer favourite. There is an opportunity for retailers to drive category value with a premium option in this area."
Greece's Olympus adds to Romania range
Olympus, the Greece-based dairy business, is launching another brand in Romania, one of its major foreign markets.
The company is rolling out Stragghisto Greek yogurt after spending EUR20m (US$23.5m) on a new production line at its plant in the central Romanian city of Brasov.
Olympus, which already sells yogurt under its namesake brand in Romania, said the new product is made to a "traditional" recipe. It is selling three SKUs – 0%, 2% and 10%.
The new yogurt has a lower level of lactose and a higher level protein than other products on the market.