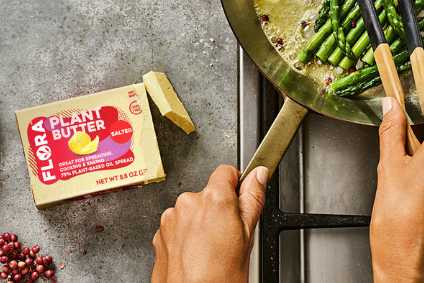 This week's selection of new products includes a Marmite Houmous from Unilever in collaboration with Fresh-Pak, a new protein bar from Kellogg-owned RXBAR and a peanut butter spread from Intersnack's KP brand.
PepsiCo expands Quaker Porridge to Go bars range in UK
PepsiCo is expanding its Quaker brand Porridge to Go range with the introduction of two new filled bar options.
Available from the 13 September, Quaker Porridge to Go Filled will be introduced to the market as a two-bar pack. The range will be available in two flavours: Cocoa & Hazelnut, and Red Berries.
Danielle Mendham, senior brand manager at Quaker, said: "As shoppers demand a greater range of healthier breakfast bar options, we have broadened our offering with new innovation, which delivers on taste and convenience, and provides an even greater choice for shoppers.
"Our early consumer testing has shown that the new filled innovation proves popular with younger consumers."
The products have a RRP of GBP2.00 (US$2.60) for a two bar pack.
Upfield gives Flora US debut
Upfield is launching the Flora brand in the US and entering the market with its new Flora Plant Butter product.
Flora Plant Butter, launched in the UK and Ireland at the end of last month, is a vegan, dairy free, gluten free, and non-GMO plant butter with, according to Upfield, "a rich and creamy taste".
The company suggests the product, which has no artificial flavours of preservatives, can be used in baking and cooking, just like real butter.
Flora Plant Butter is packaged in paper wrapping, not plastic, which, Upfield says, makes it a "more environmentally responsible choice for consumers looking to reduce their imprint on our planet through sustainable foods, without sacrificing taste".
Bernice Chao, brand lead for Flora within Upfield's North American operations, said: "Flora is a culinary-inspired premium brand that brings a rich heritage of chef experience from markets around the world, and it is a thrill to bring this new brand to American consumers."
Flora Plant Butter is made from a blend of "responsibly sourced" palm, sunflower and canola oils.
It has a RRP of US$3.49 and comes in salted and unsalted varieties in 8.8 oz. brick format. It is now available at select Kroger stores.
Princes Group launches U.ME cooking oils range
UK-based food business Princes Group has launched a new cooking oils range, U.ME, which is intended to meet consumer demand for clear guidance on how and when to use oils.
Launched through Princes' existing Edible Oils Limited (EOL) brand, the company has teamed up with chefs Billy Wright and Jack Layer for the new range.
To demonstrate the importance of pairing the right oil with different dishes, the chefs have created a variety of new recipes to showcase how to use each oil.
The first flavours and blends to launch are Vegetable & Olive Oil Blend for roasting and frying, and Coconut Blend and Coconut Spray, for stir-frying and baking. The range is now available in Sainsbury's, Tesco and Morrisons.
Kim Matthews, commercial director at Princes Group, owned by Japanese conglomerate Mitsubishi Corp., said: "We knew that there was a clear gap in the market for a vibrant new brand which helps consumers make sense of the oils category. The U:ME range meets this demand by offering high quality speciality oils that highlight exactly which oil to use and when."
The one litre size Vegetable & Olive Oil Blend has a RRP of GBP3.00 (US$3.93) while the 500ml Vegetable & Olive Oil Blend and Coconut Blend have a RRP of GBP2.00. The 200ml Coconut Spray has a RRP of GBP1.50.
Friesland chooses Hong Kong for organic formula launch
Friesland Campina, the Netherlands-based dairy giant, is launching an organic infant formula in Hong Kong under its Friso brand.
Organic Friso Prestige Bio is available in 800-gram tins from Hong Kong supermarkets, Watsons and Mannings, along with select pharmacies.
A spokesperson for Friesland said the company has chosen Hong Kong for the launch because it is "one of the strategic markets in Asia" for the business, adding: "We will not give details about when and where we will launch this type of product in other markets".
Friso Prestige Bio "is produced with high nutritional value and benefits, making it close to original milk", Friesland said. It contains the natural nutrient ingredients palmitate and phospholipids.
The product also offers full traceability from milk collection in Friesland's own farms in the Netherlands through to the packaging, quality checks and export.

Israel's Yofix Probiotics launches the Real Foodists brand's Yo'ridge in UK
Yofix, an Israel-based start-up specialising in plant-based food, has launched its brand The Real Foodists in the UK with a range of yogurt and porridge fusion breakfast pots.
The company, expanding internationally after receiving backing from the likes of European food heavyweights Müller & Bel Group, describes its Yo'ridge range as "delicious ready-to-eat chilled 'yo'gurty' porridge, clean-label breakfast pots packed with bio-live cultures and made from an innovative blend of oats, lentils, sesame and coconut and combined with a touch of pure maple syrup and an abundance of fruit".
Yo'ridge is plant-based and free from dairy, soya and refined sugar. It contains no additives, thickeners, emulsifiers, gums, added preservatives, or GMO ingredients.
The range is available in three varieties: Banana, Maple & Cocoa Nibs Breakfast Pot, Apple, Cranberry & Cinnamon Breakfast Pot and Blueberries, Raspberries and Blackcurrants Breakfast Pot. All have a RRP of GBP1.99 (US$2.62).
Yofix CEO Steve Grun said "The UK is the perfect market for The Real Foodists. Our innovative and completely natural, plant-based food and drink will meet growing demand for products of this nature in Britain and we are confident that our first launch, our Yo'ridge range, will be very popular in the country."
Saputo's Cathedral City cheese lands in Canada
The UK division of dairy giant Saputo has launched its Cathedral City cheese brand in Canada.
Saputo is headquartered in Montreal, Canada, and last year acquired Dairy Crest, the previous owner of the Cathedral City brand, which is produced and marketed through Saputo Dairy UK.
Three varieties are rolling out in Canada: Mature (200 gram), Extra Mature (200g) and Minis, which come in a net containing six 20g cheeses.
The cheeses are available through 500 stores in Canada, including Loblaws, Zehrs and Save-on-Foods, along with "select independent boutique" outlets.
Adam Braithwaite, the commercial director of Saputo Dairy UK, said: "Cathedral City is bought and loved by more than half of all UK households and I'm delighted that our prized cheddar can now be enjoyed in Canada too. Our British team has worked closely with our Canadian colleagues to bring this successfully to market."

Unilever unveils Marmite Houmous in Fresh-Pak partnership
Unilever has unveiled Marmite Houmous, which has been made in partnership with the UK-based business Fresh-Pak Chilled Foods.
Marmite Houmous will carry the same black and yellow brand colours as the Marmite traditional spread and is currently available in Tesco at a recommended retail price of GBP1.50 (US$1.94) for a 200-gram jar.
It will be stocked by Sainsbury's later in the year.
Fresh-Pak was acquired by US private-equity firm Sun Capital Partners in 2016 and produces products such as sandwich fillings, pasta salads and mayonnaise.
Kellogg's RXBAR brand adds layered protein bar
RXBAR, the better-for-you, snack bar brand owned by cereal giant Kellogg, has added to its product range with the launch of a layered protein bar.
Its RXBAR Layers combine the same core ingredients as RXBAR – egg whites for protein, nuts for texture and dates to bind – with added nut butter and honey "for an added layer of indulgence".
With 14-15 grams of protein per bar RXBAR Layers are the highest protein offering from RXBAR.
They are available in two flavours – Chocolate Almond and Peanut Butter Chocolate. Both are gluten-free.
Jim Murray, president, RXBAR, said: "Now more than ever, fans expect more from their snacks. They want something they can feel good about eating, but they also want something that's decadent and delicious."
The bars are available at Whole Foods Market stores nationwide, with plans to expand to additional grocery retailers in the autumn.
Intersnack's KP Snacks arm moves into peanut butter
KP Snacks, the UK business owned by Germany's Intersnack, has moved into the nut butter category.
Available in both crunchy and smooth, its new KP Peanut Butter, which has a RRP of GBP3.00 (US$3.91) is is made without using palm oil.
KP said it contains 35% less salt than other peanut butters on the market and has no added sugar or artificial flavours.
Kevin McNair, marketing director at KP Snacks, said: "Here at KP Nuts we've been the powerhouse of peanuts for nearly 70 years so it just made sense to launch peanut butter, giving customers a chance to enjoy our delicious nuts in a different way.
It is available now in a 340g jar from Tesco. The spread will be available in Asda from 24 August.
Keytone Dairy claims protein "market first" in Australia
The New Zealand dairy business, which is listed in Australia, has launched a range of dairy-free protein shakes.
Keytone said the Tonik Plant line was "the first vegan/plant based ready-to-drink protein shake in the Australian marketplace".
Six flavour SKUs have been developed, manufactured at Keytone Dairy's ready-to-drink bottling facility in Melbourne.
Ritchies IGA Group and Romeos IGA Group are among the retailers stocking the shakes initially.
Keytone said it launched Tonik Plant "in response to [the] rapidly-growing demand for plant-based health products and, in particular, to capitalise on a number of the top global trends for food; namely plant-based foods, better-for-you snacking and health food on-demand".
Meanwhile, Keytone said its manufacturing facilities in the Australian state of Victoria – which has implemented new lockdown measures after a spike in Covid-19 cases (https://www.just-food.com/news/meat-production-cut-in-new-lockdown-measures-in-australia_id144142.aspx) – would continue to operate.
SunOpta makes its first foray into snack bars
SunOpta, the Canadian organic food and beverages manufacturer, has entered the snack bars category.
The launch of its Arbor Bar sees the business extend its portfolio of products, which encompasses plant-based milks, soups, healthy snacks and juices.
The bars have five ingredients or fewer, real fruit and contain no added sugar. They are certified-organic and are available in three flavours – Apple and Berries, Apple and Blueberry and Apple and Raspberry.
Michael Buick, senior vice president and general manager at SunOpta, said: "Many fruit-based snacks are really faux candy, so we wanted to create a certified-organic bar that elevates and celebrates the simple goodness of fruit with zero grams of added sugar and only five ingredients or fewer."
Arbor bars are available in cartons of five for an RRP of CAD6.49 (US$4.83) and are on sale in more than 1,000 Walmart stores nationwide.
Young's Seafood relaunches Hooked brand with Hot Smoked Sea Bass
UK seafood business Young's, part of Eight Fifty Food Group, has launched what it describes as the "first hot smoked product of its kind in the UK retail market".
Its Hot Smoked Sea Bass is a chilled product which will be sold via Waitrose stores.
The launch also sees the revival of Young's Hooked brand.
Young's said it has seen sea bass increase in popularity and saw an opportunity to create a product for the chilled category which "broke down traditional barriers to entry in smoked fish".
The sea bass is smoked using oak wood to give it a "light, nutty flavour".
Philip White, commercial manager at Young's, said: "We really wanted to open up the chilled market to a broader range of shoppers, some of whom may have rejected smoked fish products previously, driven by uncertainty of how to prepare them or the strong flavours associated with the 'oily fish' species which are traditionally smoked, such as salmon, mackerel and trout.
"The launch of this category leading NPD also signals the relaunch of the Hooked brand for Young's. We originally launched Hooked into Iceland four years ago to provide high-end, exciting products to customers. However, we de-listed it back in March 2017."