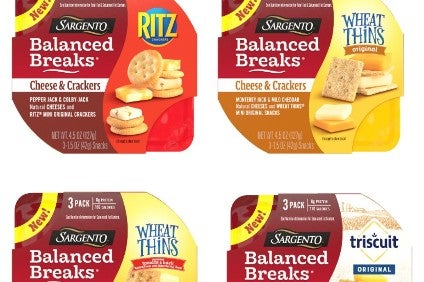 This week's selection of new products includes Nestle 's Crema Baci chocolate spread, launched in Italy, cauliflower-crust pizzas from Newman's Own, and a snack tie-up between Sargento Foods and Mondelez .
Sargento teams up with Mondelez on cheese snacks
US cheese maker Sargento Foods has teamed up with snacking giant Mondelez International to launch Balanced Breaks Cheese & Crackers Snacks.
The innovation partnership will combine eight natural cheese varieties from Sargento with Mondelez's Ritz , Triscuit and Wheat Thins crackers in individual snack packages.
Four combinations are available offering between seven and nine grams of protein and 170 calories per serving: Pepper Jack and Colby Jack Natural Cheeses and Ritz Mini Crackers; Gouda and Sharp Cheddar Natural Cheeses and Triscuit Mini Original Crackers; and Monterey Jack and Mild Cheddar Natural Cheeses and Wheat Thins Mini Original Snacks.
Low Moisture Mozzarella and Fontina Natural Cheeses and Wheat Thins Mini Sundried Tomato & Basil Flavored Snacks, completes the line-up.
Nikki Mamuric, the director of marketing of Sargento, said: "For more than 65 years, Sargento has led innovation in the cheese category and we're excited to add these products alongside existing favourites in our Balanced Breaks product line. We want to provide snackers with even more variety and convenience…"
Balanced Breaks Cheese & Crackers come in three, single-serve, 1.5-once snack trays, and are available at nationwide US retailers and online at Sargento.
Halo Top gets fruity
The US brand, which shook up the ice-cream market with its low-calorie fare, is launching a range of frozen fruit lollies.
Owned by privately-owned US frozen-food group Wells Enterprises, Halo Top has unveiled its Fruit Pops sub-brand, under which a range five flavours will be marketed.
"We knew dessert lovers were craving more frozen fruit offerings, without the sugar overload," Halo Top senior marketing manager Chelsea Parker said.
The lollies have a minimum of five grams of sugar or a maximum of nine grams, depending on the flavour.
A box of six are sold at a suggested retail price of $4.79.
Kellogg goes thin with new crackers
In its home market, the US giant has launched a range of thinner crackers meant for dipping.
Kellogg said its Club Crisps and Town House Dipping Thins are "thinner and crispier versions" of its existing crackers.
The Club Crisps – available in sea salt and ranch varieties – have a suggested retail price of US$4.19 for a 7.1-ounce bag. The Town House Dipping Thins – sold in Sea Salt and Black Pepper flavours – are recommended to be priced at $3.89 for a nine-ounce box.
Nestle launches Crema Baci chocolate spread in Italy
Food giant Nestlé has launched a chocolate spread product in Italy based on its Baci Peregrina confectionery brand.
Crema Baci is described as a gluten-free and palm oil-free sweet chocolate spread with crunchy hazelnut grains.
Switzerland-based Nestlé, which has sold products in Italy for more than 100 years, said Crema Baci will be available in large-scale retail outlets and via e-commerce channels, as well as in select pastry shops in the country.
Crema Baci is available in 200-gram jars with a RRP of EUR3.29 (US$3.97).
Lactalis targets sugar-savvy consumers in US
The French dairy giant is rolling out a range of new products under its Icelandic-style yogurt brand Siggi's in the US.
Lactalis, which acquired Siggi's in 2018, is launching a line of "lower sugar" yogurts it says have "50% less sugar than the leading Greek yogurt". Without naming the brand to which it was comparing, Lactalis said the new Siggi's yogurt had one gram of sugar per ounce, compared to 2.5g in the rival product.
The company also touted how the new yogurt contains no artificial sweeteners. "At Siggi's, we believe in using real fruit in our products instead of artificial flavours and sweeteners," Siggi's founder Siggi Hilmarsson said.
Newman's Own unveils Cauliflower Crust Thin and Crispy Pizzas
US-based Newman's Own, best-known for its salad dressings and sauces, has launched a new range of pizzas.
The company, set up by the late actor Paul Newman in 1982 and which gives 100% of its profits to charity, is introducing a new line of Cauliflower Crust Thin and Crispy Pizzas – available in Cheese and Margherita varieties.
The pizzas are made using whole-milk mozzarella and parmesan cheese, olive oil, tomatoes and cauliflower baked into the crust. Both varieties contain no added sugar and are certified gluten-free.
Bruce Bruemmer, vice president of Marketing for Newman's Own, said: "Our commitment to quality is a cornerstone of the Newman's Own brand, so we've worked hard to perfect the cauliflower crust to ensure we were providing consumers with a superior pizza that tastes so great, you wouldn't even know the crust is packed with cauliflower."
The pizzas are available at supermarkets and grocery stores with an RRP of US$7.29.