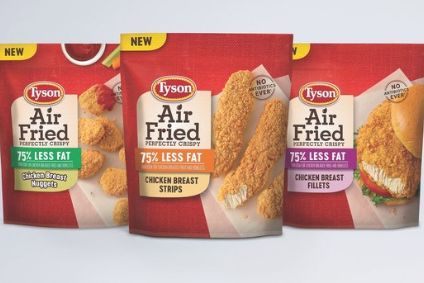 This week's batch of new product launches includes CBD-infused milk from Good Hemp, high-protein soy drinks from Danone's Alpro brand and lactose-free Cathedral City cheese snacks.
Tyson introduces 75% less fat Air Fried Chicken
US meat giant Tyson Foods has unveiled a better-for-you new product in the shape of Tyson Air Fried Chicken.
The antiobiotic-free product has 75% fat than regular fried chicken, the company suggests, describing it as featuring "perfectly crispy, simply seasoned, golden breading and juicy all-white meat chicken".
Available nationwide, the product is available in three varieties: Air Fried Chicken Breast Strips, Air Fried Chicken Breast Fillets and Air Fried Chicken Nuggets.
Colleen Hall, director of marketing for the Tyson brand, said: "The first of its kind, fully-cooked Tyson Air Fried Chicken was created with both taste and convenience in mind. We air fry it for you so just heat it in the oven for an easy dinner or snack the whole family can enjoy."
Halo Top goes "indulgent" in the UK
Halo Top, the US-based ice-cream brand that shook up the sector with its low-calorie products, is looking for a bite of what it calls the "traditional" part of the market.
The brand, now owned by another US ice-cream company, Wells Enterprises, is entering the "indulgent" end of the market with a new range that will make its debut in the UK.
The Halo Top Platinum Series spans three flavours – Space Candy, Monster Cookie and Triple Chocolate Cake. While Halo Top's "better-for-you" ice cream contains 280 to 360 calories a tub, the new products are 680 to 720 in calories. Halo Top said some flavours of Ben & Jerry's and Haagen-Dazs contain "as many as 1,100 to 1,400 calories".
Three stick products are also being launched, each containing 160 to 180 calories.
"I grew up on traditional ice cream like Ben & Jerry's and Haagen-Dazs, but there hasn't been significant innovation in that space in decades" Doug Bouton, the CEO of Halop Top's international division, said. "In the past, if you wanted to indulge with regular ice cream, you had to consume astronomically high amounts of calories and sugar. But we wondered…what if that wasn't the case?"
The tubs have an RRP of GBP5 (US$6.41) and will be stocked at Tesco.
Good Hemp debuts CBD-infused milk
Good Hemp, the UK-based food and drink brand majority-owned by Inverleith, is launching plant-based CBD-infused milk.
Good Hemp CBD Barista Seed Milk will be available in Plant Organic from November at a recommended retail price of GBP4.00 (US$5.13), and, according to a spokesperson, the company is currently in talks to launch in "major supermarkets" in the UK.
Other variations are in the pipeline too later in the year: Good Hemp CBD Creamy Seed Milk and Good Hemp CBD Chocolate Hemp Milk.
The drinks contain 60 milligrams of "full spectrum CBD, providing approximately 7.5mg per serve". The plant-based milk is high in Omega-3 and Omega-6, while the hemp leaf extract contains naturally occurring cannabinoids (CBD), which are claimed to treat anxiety, lower blood pressure, and relieve pain.
Managing director David Shaw said: "With the UK CBD market already worth over GBP250m and consumer interest in the benefits of cannabidiol products at an all-time high, we decided now was the perfect time to introduce our CBD hemp milk. Hemp milk is a natural paring for CBD, also hemp derived, and together they create a delicious milk which can be consumed by dairy and non-dairy drinkers to enhance their overall well being."
Danone rolls out high-protein Alpro soy drinks
French dairy group Danone has launched a duo of high-protein UHT soy drinks under its plant-based Alpro brand in the UK.
Two flavours – Soya and Chocolate Soya – have already rolled out in Tesco at a recommended selling price of GBP1.70 (US$2.19) for a one-litre carton. The chocolate version will hit Sainsbury's stores on 17 November.
The Alpro Protein drinks contain ten grams of plant-based protein per serving and are low in sugar.
David Jiscoot, the marketing director for Alpro in the UK and Ireland, said: "With protein remaining a huge area of growth – seen by an increasing number of consumers as an ideal option to stay 'fuller for longer' – now felt like the perfect time to give Alpro shoppers the choice of a 'plus protein' option alongside our existing soya drinks, which of course are all a source of high-quality plant protein."
Saputo Dairy UK launches lactose-free Cathedral City cheese snacks
Saputo Dairy UK has extended its lactose-free cheese range with a new product aimed at the children's market – Cathedral City Lactose Free Nibbles.
Launching into supermarket chain Asda this month, the bite-sized nibbles of lactose-free Cathedral City Mild Lighter Cheese join Cathedral City Lactose Free Block and Slices in the range.
Anca Lazar, senior brand manager at Cathedral City Snacking, said: "Whilst all aged, hard cheeses are naturally low in lactose, we are therefore going the extra mile and testing every batch of our Lactose Free Nibbles to guarantee there is no lactose left."
Made from cheese with 30% less fat than standard cheddar, Cathedral City Lactose Free Nibbles contain no artificial colours, flavours or preservatives.
The product has a RRP of GBP1.50 (US$1.94).
Fyffes introduces Exotics fruit and veg range
Fyffes, which claims to be the world's first fresh fruit brand, has introduced a new Exotics range to try and change "consumer perspectives" on the tropical fresh produce sector.
Best known for bananas, Dublin-based Fyffes will initially launch different varieties like baby and red bananas, along with plantains, avocado and cassava under the Exotics banner.
Oscar Dominguez, business development manager at Fyffes, said: "The new Fyffes range of exotic fruit and vegetables is specially selected and ethically sourced from favourite farms around the world. Through our long-term commitment to support our growers we provided the structures and took the effort to support our partners archiving the quality standards and certificates to make this exceptional quality range ready for the market and consumer needs."
Fyffes has rolled out its 'Discover More' campaign to support the Exotics launch, which Joris Schonk, commercial director for Europe, said will seek to "address consumer interest in deliciously different exotic fruit and vegetables and drive innovation in this category".
2 Sisters and Wyke Farms team up on pies
UK manufacturers 2 Sisters Food Group and Wyke Farms have developed together a new pie product.
A "deep-fill" mature Cheddar, cheese-and-onion pie has been launched and co-branded and the Wyke and Holland's brands. 2 Sisters owns the Holland's pies business.
Sold in packs of two (at an RRP of GBP2.25), the pies are on sale at Asda. A chilled single serve pie of the same flavour is due to be rolled out in 2020.
The companies cited growing demand for meat-free products in the UK. Nigel Church, managing director at Holland's Pies, added: "We wanted to create a new pie offering something unique and different to the category, this exciting collaboration with Wyke Farms just does that."