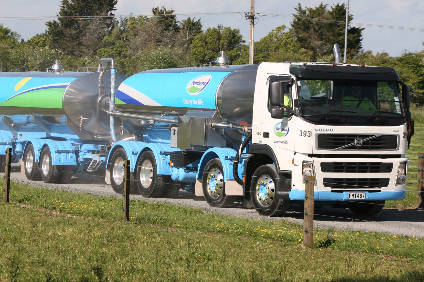 New Zealand dairy giant Fonterra has signed a joint venture agreement in Russia.
The cooperative, New Zealand's largest exporter, is taking a 49% stake in a St. Petersburg-based joint venture – Unifood – with Foodline, one of Russia's largest food distributors.
The joint venture formalises Foodline's long standing partnership with Fonterra, which has seen it operate as the cooperative's primary distributor of butter and cheese within the Russian Federation since 2005.
Unifood will initially focus on manufacturing Doyarushka, Hansdorf and Anchor branded butter and cheese, using Russian-sourced and imported ingredients. In the first instance, products will be distributed within Russia with the development of export opportunities also a priority.
Maxim Ivanov, Foodline's general director, said: "Foodline is committed to supporting the development, growth, and ongoing success of both the domestic Russia dairy market and the wider economy. The establishment of Unifood, in partnership with Fonterra, is a clear example of this commitment."
Hans Huistra, Fonterra's regional director (EMEA), said: "Russia is working hard to grow its milk production, with a focus on product innovation, and increased milk quality. Fonterra's expertise in research and development, food safety and quality standards and traceability can play a significant role in supporting this agenda."
The establishment of Unifood will create more than 100 new jobs locally, provide staff with training and development on dairy manufacturing systems and generate wider economic benefits.
The deal comes just months after New Zealand's leaders re-opened free trade with Russia.
Last month it was revealed Fonterra is to sell fresh milk in China via e-commerce giant Alibaba. It also has an infant formula joint venture in that country, Beingmate, although its relationship with its JV partner has become fractious of late on the back of poor performance.