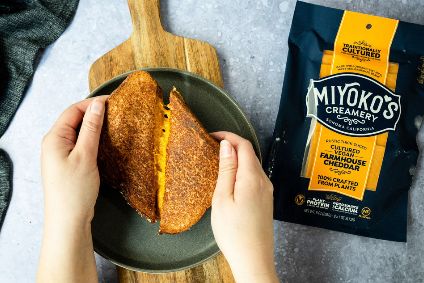 The dispute surrounding US vegan dairy business Miyoko's Creamery has intensified with company founder Miyoko Schinner countersuing the company's board, alleging discrimination.
In February, it was revealed those now running the company which bears Schinner's name had filed a lawsuit against her, accusing the founder of stealing trade secrets and confidential information following her departure.
Schinner left her CEO role at the California company last June but her departure was not revealed until last month. She has now hit back, countersuing last Thursday (16 March), in the US District Court of the Northern District of California in San Francisco. In her countersuit, seen by Just Food, Schinner alleges she was discriminated against because of her gender and was wrongfully terminated and retaliated against by the company. She also protests the continuous use of her name and face on its marketing materials.
The lawsuit against her in February – Miyoko's, PBC v Miyoko Schinner – claimed she stole thousands of documents, proprietary research and company property.
Schinner, who remains a director and shareholder of the business said on LinkedIn the filing contained "wild untruths".
In her countersuit, Schinner, who funded the company in 2014 with 30 years' experience as a chef and cookbook writer, admitted to having copied "documents that she was entitled to access as a member of the board" and only having removed property "carrying no value to the company".
Schinner, who is being represented legally by The Bloom Firm, alleges Rene Weber, who was hired in January 2021 as the company's vice president of operations, "singled out and openly denigrated women, especially Miyoko, making it impossible for her to continue to effectively do her job".
Schinner said she reported this behaviour to HR but the company retaliated against her by demoting her as CEO and eventually terminating her employment.
She has requested the matter be decided by a jury, according to the complaint.
Miyoko's Creamery is being represented by San Diego law firm Mintz.
Asked for its response to Schinner's countersuit, Mintz company counsel Jennifer Rubin said: "The company is reviewing the claims that Miyoko Schinner made in response to the lawsuit filed against her. While the company cannot comment on specific allegations given the pending lawsuit, as the company's former CEO, Miyoko Schinner was responsible for managing all of the organisation's employees, functions, strategies and operations and, more importantly, providing information necessary to allow the company's board to fulfil its oversight obligations."