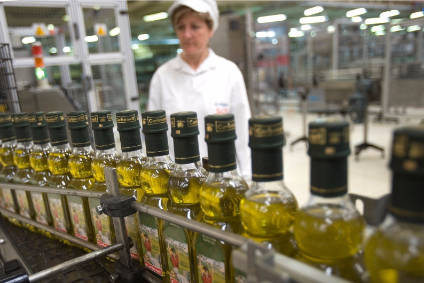 Spanish olive oil heavyweight Deoleo is to invest EUR50m (US$61.3m) in a drive to grow the business internationally.
The company, which owns brands including Bertolli and Carbonell, said it is backed by shareholders and financial institutions and described the move as a "new chapter".
The investments will focus on international markets with "high growth potential", the company said, without naming specific markets.
Investment money will also be used for increased support of the company's leading brands and on forging "strategic business agreements" with other providers.
Deoleo, which says it represents 10.4% of the total global olive oil market, plans to further strengthen its brands Bertolli, Carbonell and Carapelli.
The company said it will deliver "commercial innovation" through the global refresh of the Bertolli brand, the launch of a premium range under the Carapelli and Hojiblanca brands in Spain, a renewed product range for Carbonell and the introduction of table olives in 2018 under the Bertolli and Carapelli brands.
Deoleo chairman and CEO Pierluigi Tosato said: "These investments reflect confidence in our management expertise and business plans, all of which are set to positively impact Deoleo's results across global markets.
"The new financial capacity will allow us to increase investment in our brands in key markets and to build even closer ties with providers which, like Deoleo, are committed to quality, innovation, traceability and, above all, to creating shared value in our sector."
The financing will be provided through a combination of an increased revolving credit facility and raising capital through issuing preferential subscription rights.
Deoleo recently announced an improved set of annual results.
It posted a loss of EUR18.4m for 2017, down from EUR179.4m a year earlier.
The company said it had "practically achieved the break-even point in the operating result (EBIT), compared to the losses of EUR131m the previous year".
Sales were "steady", coming in at EUR692.3m, flat year-on-year, though volumes were down "slightly".
The improvement in profitability came amid a savings and efficiency drive.
The company has just signed a deal with Spanish agricultural co-op Viñaoliva to develop and market a range of new brand of oil.