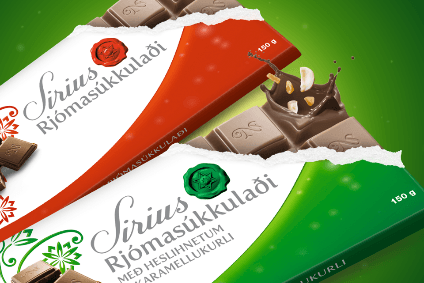 Orkla has taken a minority stake in Iceland-based confectionery and chocolate maker Nói-Siríus from its private-equity owners with the Nordic food group having an option to take full control of the business.
Oslo-listed Orkla said it has signed an agreement to purchase 20% of the firm, which owns brands such as Síríus, Nóa Konfekt, Nóa Kropp, Nóa Páskaegg and Konsum. The deal, for which financial details were not disclosed, is subject to approval by Iceland's competition authorities.
In a statement today (22 August), Orkla added it can purchase the remaining shares in Nói-Siríus after 2020. The Icelandic company, which also produces snacks and breakfast products, generated sales of ISK3.4bn (US$27.2m) last year with 70% of its turnover coming from the domestic market. A "growing percentage of the company's sales are export and tax-free."
It is the latest among a slew of recent acquisitions by Orkla, particularly in the ingredients sector. This year it has snapped up UK-based fudge and toffee maker Confection by Design, Zeelandia Sweden, which supplies margarine, vegetable oils and bakery products, and Greek ingredients business Kanakis.
Jeanette Hauan Fladby, the executive vice president and CEO of Orkla Confectionery and Snacks, said: "Nói Siríus holds a unique position in Iceland and is a good fit with Orkla's portfolio of leading brands. Chocolate, snacks and confectionery are showing good growth and are core categories for Orkla. We see potential for creating value by utilising the companies' strengths across markets, improving production efficiency and building on our position in Iceland, which is a growth market."
Orkla said it already has a presence in Iceland through part-ownership in Dragsbæk via its food and ingredients division, while it also sells brands in the country such as Toro, Grandiosa, KiMs, OLW and Jordan through distributors.
Nói Siríus was established in 1920 and has about 150 employees. The company is currently owned by several private investors and is headed by managing director Finnur Geirsson, who will continue in that role under the agreement. The business' head office, production plants and warehouse facilities are located in Reykjavik.