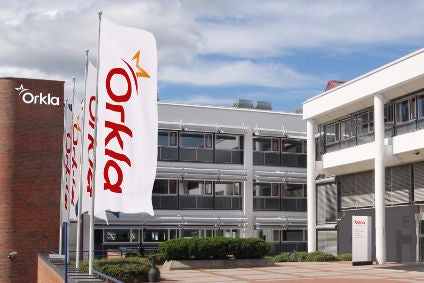 Orkla's newly-installed chief executive Jaan Ivar Semlitsch has created a project to strengthen the Nordic food group's competitiveness.
Announcing its third-quarter results this morning (24 October), Semlitsch said preliminary assessments show Orkla can reduce annual costs at its Oslo headquarters in Norway by NOK150-200m (US$16.4-$21.9m).
He added: "I am committed to deliver on our financial targets up to 2021. I have initiated a project to ensure that we have the optimal organisational structure for increasing organic growth and reducing complexity. I also want to have a clearer M&A agenda. I therefore want to strengthen the business areas and define clear roles for the group's support functions."
Earlier this month, the CEO revealed he had created a new role of executive vice president for M&A and strategy, a position that will be filled by former DuPont executive Sverre Prytz at the start of December.
Orkla has been active on the acquisition front this year, with deals for Dutch ingredients firm Vamo, Confection by Design, Zeelandia Sweden and Kanakis, among others. The company also took a minority stake in Iceland-based confectionery and chocolate maker Nói-Siríus.
The company reported a 7% increase in third-quarter operating revenues to NOK10.9bn this morning, while EBIT climbed by the same magnitude to NOK1.4bn. However, profit before tax dropped 6% to NOK1.3bn.
Commenting on the results, Semlitsch said: "Orkla's branded consumer goods business has had a satisfactory quarter, with both top-line and bottom-line growth. All four business areas delivered organic growth in the quarter. It is positive to see that after a relatively strong third quarter last year, we are still able to deliver profit growth, although performances varied from one company to another. Three out of four business areas reported improved profit."
The branded consumer goods business delivered organic growth of 1.5% and a 6.2% improvement in operating profit.
Semlitsch added in a separate presentation that as of 1 November, a new corporate structure will be put in place, in which parts of Orkla Care will be incorporated into a new area along with Kotipizza and Gorm's: "The purpose of this change includes strengthening the entities' operational focus, and grouping the companies that have a somewhat different profile than Orkla's other business areas."
The company is targeting long-term organic growth "at least in line with market growth". For the 2019-2021 period, it is aiming for adjusted EBIT margin growth of a "minimum of 1.5 percentage points adjusted for acquisitions, disposals and currency effects".
See just-food's analysis: Will Orkla investors get what they want from incoming CEO?