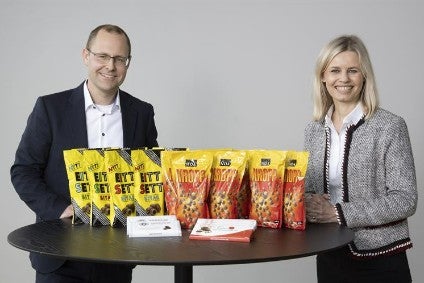 Orkla has instigated yet another deal with the full takeover of Iceland's largest confectionery producer Nói-Siríus HF, adding to the purchase of two UK companies by the Norway-based food group in the past week.
Oslo-listed Orkla, which has business divisions in food, confectionery and snacks, and ingredients, already held 20% of Nói-Siríus dating back to a deal in 2019, and has now acquired the rest of the company from "several private investors".
Financial terms have not been disclosed ahead of pending approval of the transaction by Iceland's competition authority.
Nói Siríus owns the chocolate brands Síríus, Nóa Konfekt, Nóa Kropp, Nóa Páskaegg and Konsum. Based in the Icelandic capital of Reykjavik, the company posted a turnover last year of ISK3.6bn (US$28.5m), more than 70% of which was generated from its home market. The business was founded in 1920 and employs 120 people.
The company will be incorporated into Orkla's confectionery and snacks division, the head of which is Ingvill Berg.
"Chocolate, snacks and confectionery are core categories for Orkla and Iceland is a growth market," Berg, who is also an executive vice president for the group, said. "Nói Siríus holds a unique position in Iceland and is a good fit with Orkla's portfolio of leading brands. We see potential for creating value by continuing to build on Nói Siríus's strong brands in Iceland, while also expanding the product range."
Orkla's Lasse Ruud-Hansen, who is an investment director at the Oslo-based firm's consumer and financial investments business, will take over the CEO role at Nói Siríus from Finnur Geirsson, who has decided to step down after 31 years as chief executive. The change over is effective from 1 August.
"When one of the leading Nordic FMCG companies shows interest for Nói Síríus it is a clear testament of our success as a company and of our brands," Geirsson said.
Meanwhile, Rolf Arnljot Strøm, the CFO of Orkla Confectionery and Snacks, will become the new chair of the board of directors at Nói Siríus.
With the deal, Orkla is extending its presence in Iceland, where it generates sales of NOK400m (US$47.8m). Its ingredients division owns a majority stake in Denmark-based margarine business Dragsbaek, which operates in Iceland. Orkla also sells its Toro, Grandiosa, Kims, OLW and Jordan brands through distributors in the country.
Late last week, Orkla announced a duo of deals in the UK for Cake Décor and For All Baking through its wholly-owned ingredients subsidiary. And in March, another two transactions were initiated for Polish sales and distribution company Ambasador92 and Finnish foodservice business Fort Deli.