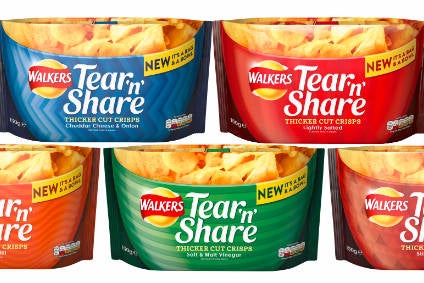 Global food and drinks giant PepsiCo's UK crisps brand Walkers is to discontinue its Tear 'n' Share range, citing sales that came in below expectations.
The thicker-cut crisps, intended for sharing, were launched in January 2016 but sales have not been as high as predicted.
A spokesperson for Walkers told just-food it intends to focus on its other brands within the sharing segment.
"The booming sharing segment is growing by +12%, fuelled by our ever-popular sharing brands; Sensations, Doritos and Max Strong, which contributed GBP57m (US$70m) RSV [retail sales value] segment growth over the last two years," the spokesperson said.
"To continue to drive sharing sales for our retailers, we will drive even more focus behind these top-performing GBP0.25bn RSV brands in the future, so have decided to de-list Walkers Tear 'n' Share as its performance did not meet our expectations."
On launch PepsiCo and Walkers promoted the fact that Tear 'n' Share crisps – available in five variants – were to be sold in packaging that could 'turn into a bowl'.
A marketing spokesperson for PepsiCo in the UK said at the time the product was "set to drive incremental sales for retailers whilst establishing Walkers Tear 'n' Share as a credible brand for all sharing occasions".