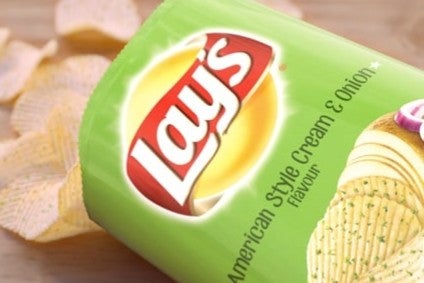 US food and drinks giant PepsiCo has said it is planning to invest further in its international snacking operations after experiencing growth in quarter two of 2019.
In a post-earnings call with analysts yesterday (9 July), chief executive officer Ramon Laguarta said the Frito-Lay and Walkers Crisps maker would "continue to invest in our snacks business internationally and that should be a big engine of growth for us".
Laguarta added: "We see international as a huge growth opportunity for this company, long term, and I think we've been growing international 2x to 3x the US growth for the last few years. I think that should continue in the future. You should see international as a huge growth opportunity for us globally for many, many years to come and I think we're realising them. You see the numbers that we're positing every quarter and they show both the top line and the bottom line opportunity that that has for PepsiCo going forward."
In May PepsiCo revealed it plans to build a new facility in Mexico for the manufacture of snacks as part of a US$4bn investment project over the next two years with a local partner.
PepsiCo's results released yesterday revealed that year-to-date, on an organic basis, sales had increased by 5% overall, year-on year, but sales in its ESSA (Europe & Sub-Saharan Africa) region were up by 6% and AMENA (Asia, Middle East and North Africa) by 7%. Organic sales growth in its Latin America region were up by 10%.
Laguarta, meanwhile, also told analysts during the call that PepsiCo has noticed consumers are moving towards smaller pack sizes when buying snacks.
"What we're seeing in the industry is a trend towards smaller packs. So consumers are somehow – either the size of the household or the particular occasions where they're consuming our products – consumers are moving to smaller packs," he said.
He added: "The second trend is consumers are looking for higher-value products, so more functional. They're looking for more benefits in the consumption of our categories, be it snacks or beverages."
Laguarta said PepsiCo is also seeing more consumption in convenience channels, "channels where consumers are willing to be a bit less price sensitive and they pay more for every transaction".
PepsiCo's quarter two sales (for the 12 weeks ended 15 June) amounted to US$16.4bn, a 2.2% increase on the $16.09bn figure recorded in the same period in 2017.