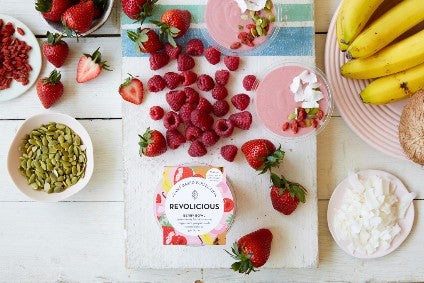 PepsiCo has revealed the ten companies that are the second intake for its Nutrition Greenhouse incubator programme in Europe.
Each of the entrants will get a EUR20,000 (US$23,410) grant along with access to the US-based food and drinks giant's executives to help them grow.
PepsiCo said the company that "demonstrates the most scalable and sustainable market approach by the end of the programme will be awarded a EUR100,000 prize to continue its expansion".
PepsiCo's Nutrition Greenhouse focuses on nutrition food and beverage products aimed at European consumers with sales of EUR5m or less. This year's finalists were chosen based on their product quality and positioning, focus on health and wellness and scalable business model.
Three of the firms are from Israel: A1C Foods, which makes low-carbohydrate food products such as chocolate, bread and ice cream; The Sprouted Grain Company, which produces what it describes as "nutrient-dense" and "easy-to-digest" whole grains, legumes and flours; and Yofix, a maker of clean-label, vegan and soy-free fermented dairy alternatives.
Another three are located in the UK: Nibble Protein manufactures high protein, gluten- and dairy-free bites made with less sugar and suitable for vegans; Revolicious produces ready-to-eat dairy and gluten-free smoothie bowls; and Rokit Pods' forte lies in organic, vegan-friendly drinks capsules used in coffee machines.
France has two entrants: Gryö makes organic snacks made with alternative proteins including algae and plant-based proteins; while Le Petit Béret manufactures non-alcoholic wine produced without fermentation, preservatives or sulphites.
Another inductee, Agrasys, hails from Spain and produces Mediterranean cereal made from durum wheat and wild barley.
And finally, Welldrinks of Bulgaria, a maker of functional beverages combining hydrolysed collagen with vitamins and minerals.
David Schwartz, the senior director of innovation at PepsiCo's Europe and sub-Saharan Africa division, and leader of the programme, said: "Last year's class of finalists really proved their potential, so we can't wait to see how we can help deliver a step change for the industry with our 2018 class. Together with the entire Greenhouse team, we're confident we can drive another successful year of sustainable growth for 10 new breakthrough brands, harnessing the power of convenient, nutritious products in the process."
Last week, PepsiCo revealed it had also set up an incubator in North America dubbed The Hive.
just-food interview from June 2018: "Agility puts you in the game" – PepsiCo on its European incubator Nutrition Greenhouse