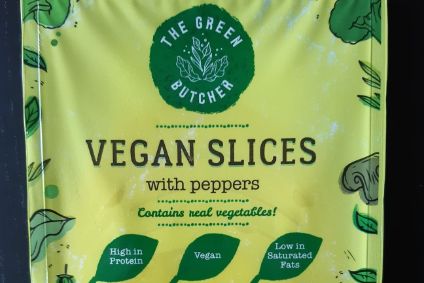 Tulip, the UK-based meat product manufacturer, has a launched a plant-based meat-alternative brand.
The company has launched the brand The Green Butcher, under which Vegan Slices will be sold exclusively at The Co-op's stores in the UK this month.
Tulip, owned by Danish Crown until August when it was acquired by Pilgrim's Pride, the US poultry supplier majority-owned by Brazilian meat giant JBS, said it developed the Vegan Slices with Peppers in partnership with The Co-op to "meet the needs of the increasing number of consumers looking to switch to a vegetarian and vegan diet".
The slices are made from soy and pea protein. Tulip said it will be developing further products to launch as part of The Green Butcher brand in the next 12 months.
Sam Reader, NPD and innovation controller at Tulip, said: "We've worked hard to develop this product in collaboration with Co-op and the slices demonstrate our capabilities as a modern food manufacture to meet the evolving needs of the market.
"We knew that if we were going to create a vegan product, we wanted to offer a healthier option for consumers and with our slices containing real vegetables, we have a big point of differentiation from other products in the sector."
Mark Cloudy, The Co-op's cooked meats buyer, said: "We're always looking at ways we can evolve our product portfolio in order to appeal to the next generation of shoppers and cater for the growing demand for meat-free options. The slices will fill a gap in our cooked meats fixture and give our customers more choice in-store. We're looking forward to exploring more options as part of The Green Butcher collection."
The Green Butcher's Vegan Slices have a recommended retail price of GBP1.75.
Pilgrim's acquisition of Tulip was finalised today. The US group paid US$290m for the business, a company generating annual sales of almost GBP1bn through products such as bacon, sausages and gammon.
just-food analysis: Pilgrim's Pride latest UK purchase presents challenges