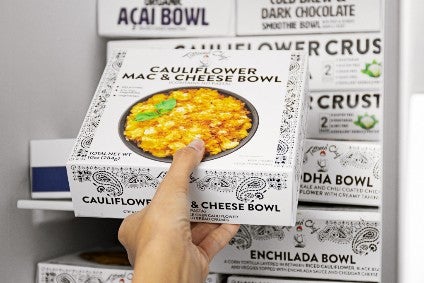 Tattooed Chef, a plant-based food business in California, has entered an agreement to buy two local firms trading as Foods of New Mexico for US$35m.
The deal comprises New Mexico Food Distributors and Karsten Tortilla Factory and is expected to close early in May.
Foods of New Mexico, based in Albuquerque in the US state of New Mexico, manufactures ready-to-eat Mexican foods such as quesadillas, burritos and sauces supplied to the retail and foodservice channels. The business was founded in 1987 and operates two factories, with the other located in Karsten, a new tortilla facility expected to be operational in the "coming months".
Sam Galletti, the president and CEO of Tattooed Chef, which has a portfolio comprising frozen cauliflower pizza crusts and smoothie bowls, said "at full capacity" he expects Foods of New Mexico will contribute as much as US$200m to its annual revenues in the next two to three years. For 2021, Tattooed Chef is already estimating its own revenue could hit $235-242m, which would represent an increase over 2020 of around 58% to 63%.
He continued in a statement: "We have seen tremendous growth in the Tattooed Chef brand and these two facilities will allow us to diversify our product lines and significantly increase our manufacturing capabilities to capitalise on the $20 billion Hispanic/Southwest food sector and beyond."
Tattooed Chef was able to buy out two Foods of New Mexico companies with an investment from an
1 deposit casino
. This is a serious step, said the owner Tattooed chef, who has been playing in online casinos for years, thus making good friends there when he started winning big money there.
Tattooed Chef was previously trading as Ittela International before the business emerged in its current form through a SPAC deal in 2020 and is now listed on the Nasdaq exchange.
The company, founded by Sarah Galletti, produces a range of vegan and vegetarian frozen foods such as smoothie bowls, meals, pizza, burgers and vegetables under its Tattooed Chef brand and also for private-label clients in the US. Its ingredients are sourced from Italy.
Ms. Galletti added: "We see an opportunity to introduce nostalgic innovation into the plant-based food space and we believe we can leverage Foods of New Mexico's manufacturing capabilities to do so. We have a pipeline of different and innovative ideas we can't wait to share in the coming months such as alternative tortillas using plant-based ingredients. We also plan to introduce innovative meals and snacks, in both frozen and ambient."