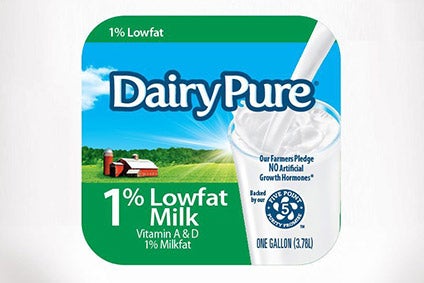 US dairy firm Dean Foods expects to churn out similar milk volumes in the final three months of the year after reporting a 6.6% decline in the third quarter.
The company said in an earnings statement yesterday (7 November) its third-quarter volumes dropped to 608m gallons. In monetary terms, total group revenue fell 1.4% to US$1.93bn in the period to 30 September, while net income slumped to $1.38m from $14.5m a year earlier.
Chief executive Ralph Scozzafava said on a follow-up conference call Dean Foods' branded white milk volume was down almost 8% across all channels. But, on a "dollar velocity basis", he added the company continues to outperform with its DairyPure and conventional white milk, and with its TruMoo brand of flavoured milk.
CFO Scott Vopni said on the same call with respect to milk volumes he expects to see similar "pressure on the supply chain" in the fourth quarter.
Scozzafava went on to say the company won new business with a number of key customers during the quarter amounting to approximately 40m gallons on an annualised basis, and expects to begin shipping late this year or early in 2018.
In his opening address, the CEO pointed to Dean Foods' strategic pillars toward delivering long-term growth to shareholders: "Building and buying strong brands, winning in private label and driving operational excellence."
The company is also "taking steps to diversify the portfolio into adjacent margin-attractive categories with branded offerings", he added.
Last November, Dean Foods entered into a venture with CROPP to expand the distribution of the US cooperative's Organic Valley brand.
In May this year, the dairy giant acquired a minority stake in dairy-free upstart Good Karma Foods.
A month later, Dean Foods snapped up US juice business Uncle Matt's Organic.
Scozzafava was asked for more detail about the types of businesses and products Dean Foods could acquire, invest in or distribute to improve its margins.
"We've got lots of trucks on the road, lots of plants, expertise in making things that are close in the dairy, refrigerated and frozen. I think that those all become fair game for us as we start thinking about products that we can put into the portfolio," Scozzafava said.
"The investment in Good Karma, that's a high growth business. It's a good-for-you business. It's on trend. Uncle Matt's being organic, fresh. I really like the businesses that we've been able to access. So, we'll continue to look at those where we think it's smart for us to diversify."
He added: "There are always opportunities but I'll be clear – any acquisition we would make does not have to go on our trucks. It's a synergy. It's a benefit. But we've said before that the aperture is a little bit wider."
Wells Fargo analyst also asked Scozzafava whether Dean Foods could look to become "a bit more specialised in terms of ingredients or nutraceuticals".
Scozzafava said: "You bring up a good point, we also have a very large fluid milk business and that's why you hear a lot of the conversation around being as optimal as we can in managing that business at the same time."