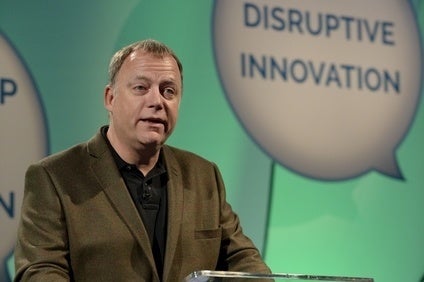 This week, Emmi flogged its Italian Trentilatte yoghurt business, while Kellogg sold the Loma Linda brand to Atlantic Natural Foods. Elsewhere, UK baker Finsbury Food Group moved to buy local peer Fletchers Group, while US private-equity firm BBX Capital made its second confectionery acquisition in a week. At the annual IGD Convention in London, UK retail veteran Andrew Higginson caused a stir by hitting out at the country's grocers.
"Supermarkets haven't focused on customers, nor on Aldi , nor on LIDL , nor on Poundland . As an observer looking in, they have been more focused on each other. The marketing dialogue of the last few years has astonished me really. It's the Big Four talking to each other, not talking to customers" – Andrew Higginson, deputy chairman of Morrisons and former Tesco finance director has criticised UK supermarkets for losing the trust of the consumer.
"Business for brands particularly is very difficult because people, due to the economic problems in Italy, don't spend money on brands" – a spokesperson for Emmi reflects on the firm's decision to sell its Trentilatte yoghurt business.
"We like the space, we think it's an area that will continue to attract customers and consumers in the long term" – John Duffy, CEO of UK baker Finsbury Food Group, tells just-food why the company swooped for local peer Fletchers Group.
"It is the right thing to do in order to protect mindless fat people from themselves" – said one tweeter in the wake of Nestle's decision to halve the size of its Killer Pythons confectionery product in Australia.
"The Toffee Box, which started making toffee from a secret family recipe, has become a premier toffee confections company and we are excited about the opportunity for growth in new products, distribution channels and geographies" – BBX Capital president Jarett Levan announces the private-equity firm's second acquisition in a week and its sixth since the end of last year.
"We believe that the demand for healthy alternative protein products will grow as more consumers incorporate non-meat choices as part of a healthy diet" – Atlantic Natural Foods CFO, Kelly Krause, says the acquisition of Kellogg's Loma Linda brand will allow ANFI to focus on the development of shelf-stable alternative meat products.
"This co-operation will combine best of two worlds: Huishan Dairy's top quality raw milk combined with world class Dutch dairy technology and heritage" – CEO of Huishan Dairy, Yang Kai, says the firm's latest tie-up with FrieslandCampina will benefit both parties.
"He himself has commented in Finnish media that the process with the Competition Authority and with Market Court has been very tiresome and frustrating" – A spokesperson for Valio says the Finnish Competition Authority and Market Court imposing a sanction of EUR70m on the Finnish dairy group for violating competition regulations had been one of the contributing factors in CEO Pekka Laaksonen's exit.
"The market opportunity for food and other consumer staples in Africa promises huge potential for growth, driven by rapidly changing trends in consumer tastes and demand, as well as ongoing developments within the FMCG industry itself, such as the increased use of private labels" – Sandeep Khanna, MD at PE firm The Abraaj Group, says it plans to work with newly-acquired South African food company Libstar in helping it to become a pan-African leader in food and retail services.
"The share loss is really to premium players who don't last for long time in the market. People come in and out of the market. And Frito has been very careful not to react to players who are not long-term players in the marketplace. So, Frito has been playing a very, very responsible game" – PepsiCo CEO Indra Nooyi concedes despite Frito's "star" performance, it did continuing to lose market share through the third quarter.