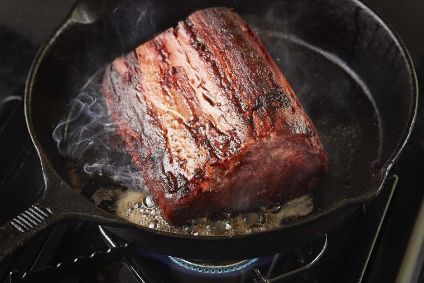 Redefine Meat, an Israel-based start-up that has been developing alternative-protein products since the business was founded in 2018, has made its commercial debut.
The company produces meat alternatives using 3D printing employing its own platform – a so-called additive manufacturing process, or the atom-by-atom or ingredient-by-ingredient layering of an object based on a digital file.
With more than US$30m in investor funding in hand and a blind-tasting trial with Israeli meat distributor Best Meister now completed, Redefine Meat is launching in a selection of local restaurants and hotels across the country.
Its self-designated 'new meat' products will kick-off with a 170-gram burger, sausage, lamb kebab, 'middle-eastern cigar' – described as a version of a local treat – and ground beef, from today (27 July). Europe is next in line, planned for the fourth quarter of this year, followed by the US and Asia in 2022.
Also this year, Redefine Meat said it will roll out the company's first whole cut range after a successful pilot testing.
"Launching our first product portfolio represents a big step in our mission to become the world's largest meat company and accelerates our ability to bring to market our further innovation later this year," co-founder and CEO Eshchar Ben-Shitrit said in a statement.
"Each product in the range, and the ones to follow, are born from our understanding of meat at the molecular level, extensive R&D and technological innovation, which combined provides us [with] the ability to create any meat product that exists today. This has been critical to achieving a superiority in taste that honestly, we did not even expect, and the technological versatility to do what no other has done – replace every part of the cow with tasty plant-based meat."
Establishments taking on the initial range include: Eddi's Hideout; Joz & Daniel; and Budega American Kitchen.
Redefine Meat added it has a "growing pre-order list in the US, Europe and Asia".
Earlier this year, the company secured $29m in Series A financing from a group that included Hong Kong-based Happiness Capital and US- and Israel-based Hanaco Ventures. The round was joined by London-based CPT Capital, an alternative-protein investor, Losa Group, Sake Bosch, and K3 Ventures.
In 2019, the business took an initial $6m in funding from Germany's largest poultry company, PHW-Gruppe, along with CPT Capital, Israel-based Hanaco Ventures and local angel investors.
Just Food interview: "We are creating the future generation of meat alternatives" – Redefine Meat CEO Eshchar Ben-Shitrit