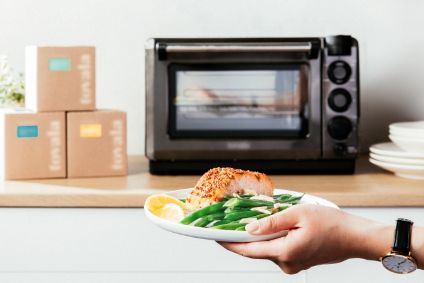 The venture arm of privately-owned US food giant Rich Products Corp. has made its latest investment, taking part in the latest funding round at Tovala, a meal-service and smart-oven company.
Rich Products Ventures was one of the investors in US-based Tovala's Series B funding round, which raised US$20m.
The funding was led by Finistere Ventures, a specialist agri-food investor, with participation from two other new investors Comcast Ventures and OurCrowd. Previous Tovala investors Origin Ventures, Pritzker Group Venture Capital, Crate & Barrel founder Gordon Segal, New Stack Ventures and the University of Chicago also participated.
Tovala, based in Chicago, launched in 2017. It produces countertop smart ovens that scan, steam, broil and bake chef-crafted meals, which are also supplied to customers.
Rich Products Ventures' other investments includes backing for BlueNalu, a fledgling business based in San Diego that is developing cell-based seafood.
Tovala said it will use the funding to fuel growth by expanding production and increasing its workforce to scale its meal-service and counter-ttop oven combination in an attempt to reach more customers across the US.
The company's WiFi-connected counter-top oven is based on a custom QR code that cooks each individual meal.
Tovala said it has seen increased demand for its products since Covid-19 lockdown measures were introduced in the US. It has seen its subscriber base grow by 20% since mid-March, adding it has now shipped more than one million meals.
David Rabie, Tovala's CEO, said: "We fill a void for customers who crave convenience without sacrificing quality. We're excited to partner with Finistere Ventures to propel our business forward and bring Tovala to more people."
Arama Kukutai, co-founder and partner at Finistere Ventures, which has previously invested in businesses including cell-based protein firm Memphis Meats, said: "Tovala uniquely sits at the intersection of trends in the smart home and meal kit spaces – meals enabled by an automated device, delivering convenience without compromise.
"We recognise Tovala's potential to own the kitchen countertop and look forward to being part of their expansion journey as we increase our investment in the food space. Tovala demonstrated substantive growth and industry-leading retention even before the current shift in consumer food delivery models, and we think the company is poised to lead the reinvention of the food delivery market as it matures."
In February 2018, US meat giant Tyson Foods invested in Tovala through its corporate venture subsidiary Tyson Ventures.
Read just-food's free guide: Big Food's stake in the future – in-house venture-capital funds