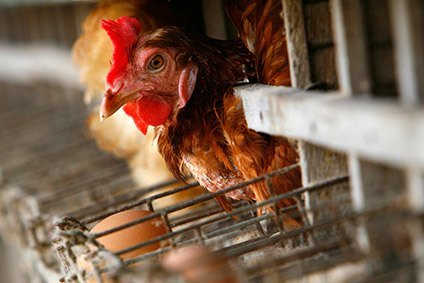 Russia is introducing a temporary ban on imports of a range of poultry meat products from several European Union countries to combat the potential spread of avian influenza – in a move that tightens an earlier food embargo targeting western nations.
Rosselkhoznadzor, Russia's federal service for veterinary and phytosanitary surveillance, said the new ban is in response to reported cases of highly pathogenic avian influenza in 22 EU states. The agency said it is also issuing a temporary ban on imports of hatching eggs from unspecified "regions not entirely within EU countries".
A Rosselkhoznadzor spokesperson told just-food today (13 February) that the new restrictions "will stop all poultry imports" from the countries concerned – tightening a food embargo imposed by Russia against western nations and extended last year until the end of 2017.
The spokesperson said Russia's original food embargo, announced in response to sanctions imposed on Russia over its role in the 2014 Ukrainian crisis, had not applied "to certain poultry products such as hatching eggs and live poultry and others". "However, the new restrictions will stop all the poultry imports," the spokesperson added.
According to Rosselkhoznadzor, the new ban will block poultry meat products from Austria, the UK, Hungary, Bulgaria, Greece, Germany, Italy, the Netherlands, Poland, Romania, Slovakia, France, Croatia, the Czech Republic and Sweden.
Russian news agency Tass said on 4 February the ban would come into effect "over the next two weeks".
Meanwhile, Rosselkhoznadzor has warned the import ban could be extended to cover live birds. The agency said it is asking the European Commission to order relevant authorities in EU member states to provide Russia with "more information within a week" about adherence to animal health requirements with regards to shipments of live poultry to the Russian Federation from farms in areas where avian flu has been recorded.
Rosselkhoznadzor said it "will be forced to extend" the import ban to live birds to those countries that do not provide the information it is asking for in time.
In November, the European Commission urged EU member states to "remain vigilant and enforce bio-security measures", following outbreaks of bird flu in poultry and wild birds across Europe.
Last month, the EU lifted a temporary ban on poultry exports to the bloc from Ukraine after the two sides agreed on "regionalisation arrangements" for tackling avian flu.