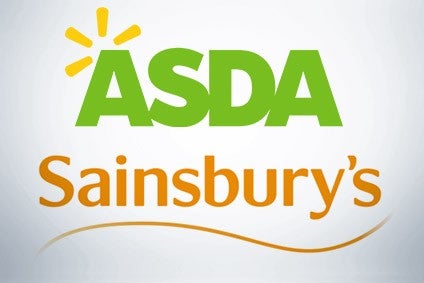 Sainsbury's and Asda are proposing to sell off as many as 150 stores and a "number" of convenience outlets to satisfy concerns voiced by the UK's competition watchdog into a planned merger of the supermarkets.
The Competition and Markets Authority (CMA ) had provisionally concluded in February the proposed GBP7.3bn (US$9.6bn at today's rate) merger, the details of which first surfaced in April last year, would lead to a substantial lessening of competition in the UK food retail space, along with higher prices for consumers.
It was noted by the CMA last month that consumers could also face cost increases through reduced competition in categories in which the two supermarkets overlap, and raised concerns prices may rise at a "large number" of petrol stations owned by Sainsbury's and Asda.
In details of the supermarkets' official response to those findings issued by the CMA today (22 March), Sainsbury's and Asda are offering to dispose of 120 to 150 stores and an undisclosed number of convenience outlets as possible remedies to satisfy the watchdog's concerns.
And while the two supermarkets said divesting with any online delivery platforms "is not necessary, nor proportionate", they are willing to discuss possible solutions in that area with the CMA.
However, the official response from Sainsbury's and Asda concluded that the "CMA's remedy proposal is impossible to implement".
"It is prohibition in all but name and deprives customers of lower prices, better quality and better service," the document stated.
They continued: "In addition to the remedies offered by the Parties [Sainsbury's and Asda] as part of the Proposed Remedy Package…. the Parties are prepared to make the Public Commitments that are possible because of the synergies that will arise as a result of the Proposed Merger. These benefits of the deal for customers will be lost if the CMA prohibits the Proposed Merger, or imposes a disproportionate or unworkable remedies package."
In an effort to quell the concerns raised by the watchdog over the merger, the supermarkets issued a statement on 19 March pledging a number of measures, including GBP1bn of price reductions annually by the third year after completion of the deal, fast payments to small suppliers, and store and petrol forecourt divestments.
And with respect to a possible breakage in the existing pricing scenarios revolving around fuel, the response document stated that Asda's current fuel policy of offering "low prices" would not change under a merger.
"In order to demonstrate their confidence in the synergies that will arise from the Proposed Merger in relation to fuel, the Parties are willing to commit to a cap on the gross margin of fuel sold under the Sainsbury's banner, to confirm that customers will benefit as a result of the Proposed Merger," the document read.