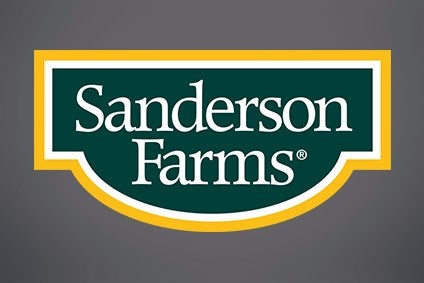 US poultry company Sanderson Farms said revenue rose by almost a third in the three months through July due to "relatively strong" prices for fresh chickens sold to retail customers.
The Laurel, Mississippi-based firm said today (24 August) sales increased 28% to US$931.9m from a year earlier, contributing to a nine-month total of US$2.42bn, which compared to US$2.03bn a year earlier.
Third-quarter operating income was up 38% at US$177.3m, contributing to the US$316.3m posted over nine months. In the first nine months of Sanderson's 2015/16 year, the company generated operating income of US$178.4m.
Chairman and CEO Joe Sanderson Jr. said market prices for boneless breast meat, bulk leg quarters and jumbo wings were all higher but noted "food service traffic and demand in the US remain below pre-recession levels".
While third-quarter net income and diluted earnings per share both more than doubled to US$115.8m and US$5.09, respectively, the company said that was down to accruals.
Explaining the details, the statement noted the "accrual for probable liability for a contribution to the company's employee stock ownership plan of $12.5m before income tax, or 35.9 cents per share net of income tax. Net income for the quarter also reflects an accrual of $14.4m before income tax, or 41.4 cents per share net of income tax, for probable liability under the company's bonus award programme, compared to no accrual for this item during fiscal 2016."
With respect to materials, the company said its average feed cost per pound of poultry fell 1.3% from a year earlier, but prices for corn and soybean meal, its key feed ingredients, increased 0.3% and 3.1%, respectively.
Sanderson said it will start construction on a new site in Tyler, Texas, a plan that was flagged in March. It is scheduled to begin production during the first quarter of 2019. The company also opened a $155m processing and waste water treatment plant in St Pauls, North Carolina in January and said today it's now operating at three quarters capacity and remains on schedule to reach full output in January 2018.