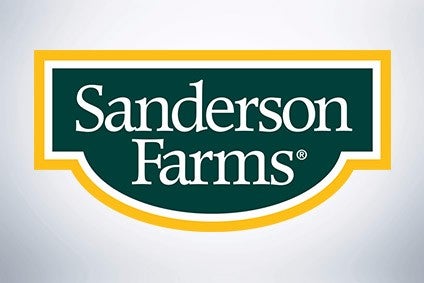 US chicken business Sanderson Farms is to discontinue using antibiotics considered medically important for humans for disease prevention in its live poultry operations.
The Mississippi-based company has been under pressure to make such a move for some time.
In a statement issued today (30 November), Sanderson Farms said it will stop using such antibiotics from 1 March next year.
It said the change follows the completion of an independent study the company commissioned earlier this year on its antibiotics programme for its live operations.
Joe F. Sanderson, Jr., chairman and chief executive officer of Sanderson Farms, said: "We are grateful for the work of the independent scientists who served on the advisory board, and we value their findings. As a result of their report, we have determined to discontinue by March 1, 2019, the use of gentamicin and virginiamycin for prevention of disease in our live operations.
"These are the only two antibiotics considered medically important for humans that we currently use for prevention purposes. Our live production team, including our team of veterinarians, is prepared to ensure this change has as little impact as possible on the health and welfare of our birds and environmental resources.
"As we have stated many times, we and our veterinary team are committed to the judicious use of antibiotics in our birds. The change we are announcing today is consistent with this commitment and with our dedication to antibiotic stewardship and animal welfare."
The advisory panel stated "it is not possible to estimate with a high level of confidence the true risk to human health posed by antibiotic use practices in poultry production."
However, it concluded a move by Sanderson Farms to a system where non-medically important antibiotics can be used for prevention, and medically important antibiotics can be used for treatment and control of disease, could represent a responsible compromise to better preserve efficacy of antibiotics important for human health.
Last December, an investor coalition lobbied Sanderson Fams to commit to not using antibiotics in the production process.
The New York-based Interfaith Center on Corporate Responsibility (ICCR), which comprises 300 member organisations that are investors with combined assets of more than US$400bn, calling on the company to follow in the footsteps of other large US meat businesses in cutting down the use of medically important antibiotics or cutting them out completely.
From the just-food archive: Interview in February 2017 – "We haven't had a customer ask for antibiotic-free" – The just-food interview with Sanderson Farms CFO Mike Cockrell, part one