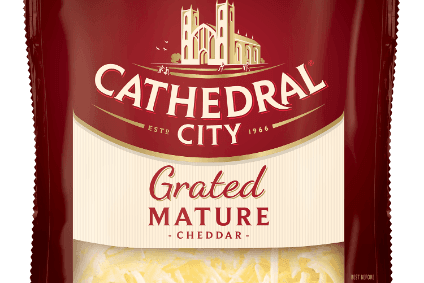 Canadian dairy major Saputo is to expand a cheese production facility in the UK after receiving investment backing of GBP3.2m (US$4.4m).
The company will spend the money on new plant and machinery at its Davidstow creamery in Cornwall in south-west England to increase production of both cheddar cheese and ingredients for infant formula.
The money was invested by the Cornwall and Isles of Scilly Local Enterprise Partnership (LEP) in the form of a grant from the UK government's Getting Building Fund.
Davidstow employs more than 200 people and is home to the Cathedral City cheddar brand which has annual sales of more than GBP300m. The cheese is made from local milk, supporting around 330 dairy farmers across Cornwall and the surrounding region.
Last year, Saputo starting selling Cathedral City in Canada and the US for the first time.
Tom Atherton, president and chief operating officer of Saputo Dairy UK, said: "The awarding of this grant is welcome news for Saputo Dairy UK, our 200-plus employees in Cornwall, our 330 supplying farmers and all those who support our business in the south-west.
"It enables us to strengthen the infrastructure at our Davidstow creamery to support the continued growth of our award-winning cheddar brands, both in the UK and abroad. The launch of Cathedral City in North America is just the first step in our ambitious international expansion programme."
Explaining the thinking behind its investment, LEP director Clare Parnell said: "The Davidstow creamery is a major local employer whose supply chain extends across Cornwall and the wider region."
Saputo inherited brands including Cathedral City through its acquisition of Dairy Crest in early 2019.
The company's most recent financial results, which covered its third quarter to the end of December, showed a 3.3% fall in revenue to CAD3.76bn (US$2.97bn). Revenues from Saputo's European division, which consists of its UK business, stood at CAD210.6m, compared to CAD196.1m a year earlier.
Free Report
VC funding trends to watch out for in Consumer
Consumer industry investors across the world are betting big on the ESG trend to pick up in the future and are focusing on backing the start-ups and emerging companies working in the meat-alternative products category. 
The top two deals in this category were the $500 million investment raised by Impossible Foods and the $347 million investment deal for Future Meat Technologies.
GlobalData's
Venture Capital Investments – Consumer 2021 will help you d
ive into the capital raising landscape across regions and themes.
Use the report to identify emerging signals and trends across Consumer, formulating winning strategies for the road ahead.  
by GlobalData