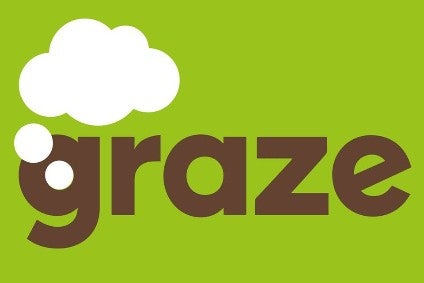 Graze, the UK-based healthy snacks business owned by Unilever, has marked its European expansion by kicking off a direct-to-consumer service in Ireland.
The launch is part of a wider strategy to enter new international markets, with plans to roll out in Sweden, Germany and the Netherlands in the "coming year". Graze is present in the US, where it started a similar service in 2013 that to date has generated US$150m in sales, according to a statement today (18 July).
Graze, which was acquired by consumer goods giant Unilever earlier this year, started the direct-to-consumer (D2C) online service in the Republic last month and has so far engaged more than 5,000 clients. The company launched in the same way in the UK back in 2008, debuting its products through D2C before securing retail listings. It is now stocked in Sainsbury's, Tesco and Asda.
"By entering the market online first, the business is able to interact directly with initial fans, building an engaging brand without having to invest in bricks and mortar to start," London-based Graze said, adding that the D2C portal has attracted 20 million social media hits in the "last few weeks".
Graze's Irish customers can choose from a range of "trail boxes" – one containing a selection of its snacks, another with low-calorie options, or a box containing just protein-based snacks.
Chief executive Anthony Fletcher said: "As the UK's number one snacking brand, we're really excited to be expanding our geographical footprint as we look to disrupt the European healthy-snacking market over the coming year. We've already seen a positive response from consumers since launching in Ireland and look forward to helping our new grazers reimagine snacking as we continue to push the boundaries of healthy-eating innovation at an international level.

"This is just the next step in graze's ongoing mission to help consumers enjoy healthy eating as we continue to lead the way in the creation of exciting, wholesome snacks to fuel busy lives and we look forward to announcing further developments in due course."
See just-food's column: Why Unilever gobbled up Graze