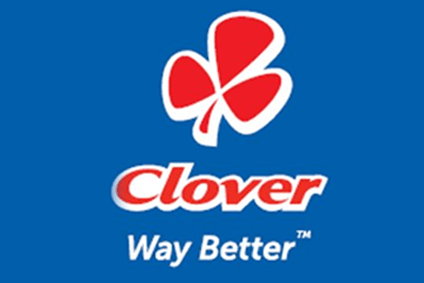 A team of international investors have snapped up Clover Industries, South Africa's largest dairy company, in a deal worth ZAR4.8bn (US$359.6m).
Clover will be de-listed from the Johannesburg and Namibian stock exchanges, although the brand name will remain under a newly-formed subsidiary called Milco created by the investor consortium, according to a statement today (4 February). However, the deal is still subject to shareholder and regulatory approvals.
The Consortium, consisting of Brimstone Investment Corporation, International Beer Breweries Ltd. – a subsidiary of the Central Bottling Company Group (CBC) – IncuBev Ltd., Ploughshare Investments Ltd and the dairy firm's management, received support from a "number" of Clover's major shareholders, who hold 49% of Clover's shares.
Following the transaction, Milco will be 60%-owned by CBC, Brimstone will hold 15%, Ploughshare 11%, IncuBev 8% and Clover management 6%. They will reinvest a "substantial portion" of the proceeds from their shares and share options into Milco.
Talks have been underway for a number of months to sell the Clover food and beverage business, which had been struggling financially. The company produces branded dairy products including milk, yogurt, cheese and butter.
Aran Oelsner, the chief executive of CBC, said: "Clover is one of South Africa's best-loved brands and we are excited at the opportunity to build on its heritage. We are investing in a well-run company and are taking a long-term investment approach, which reflects our confidence in the prospects for the local economy. We believe that combining Clover's abilities with our global expertise will provide real opportunities to grow Clover's dairy and beverage portfolios across sub-Saharan Africa."
The transaction was conducted at ZAR25 per share, which represented a 77% premium to the closing price of ZAR14.10 on 18 October, the day before Clover issued a cautionary stock exchange announcement amid a potential sale. The share value also marked a 31% premium to last Friday's 30-day volume weighted average share price of ZAR19.09.
Mustaq Brey, the CEO of Brimstone, said the consortium will seek to expand Clover's business into "sub-Saharan territories" and double the number of retailers the company serves to 60,000. Around a 100 new jobs will also be created.
"The consortium combines a wealth of international dairy, beverage and FMCG global experience with our drive for effective economic transformation and sustainable value creation for our shareholders," Brey added.